Sometimes people ask me why 'social running' instead of a running club? Well Sunday 1st of October summed up every answer I could ever give. Our group 'JJ Running' is based in Newport, but because of everyone's busy lives, getting everyone together to meet for a run is challenging! We therefore support each other a lot via social media platforms – and it works.
So if someone's going out for a run, they'll say it in the group chat and then report back. It's amazing really as some members have never met in 'real' life but we all feel we know each other so well.
This year four ladies – Tracy, Nat, Louise and Sarah completed the Cardiff Half. My intention was to complete the race with them, but due to family commitments (dad's 60th ) I couldn't be there BUT the super cool thing was…I was able to track all four of them around the course and send them messages of support via our chat group. Technology is fab!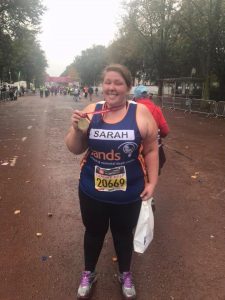 Not only was this the first time some within the group met, it was also Tracy, Louise and Sarah's first half marathons. I felt like a proud running mamma, and again, thanks to technology I was able to catch the race on BBC Wales on my parents tv (in London). I was so excited, and could see that the atmosphere was incredible there! But with 25,000 runners, spotting them was like trying to find a needle in a haystack. But I did spot other Run Wales leader/champion/blogger; Cat with her army of wonderful Divas.  However, I did catch a glimpse of Tracy and Nat in the background of the Alfie's Army programme which aired the following Monday.
These women are incredible and throughout the training and the race they have showed amazing resilience, perseverance and have support to each other.  It might have been through social media more than through actual group meets, but THAT is what social running's about – the virtual and on the ground support.
Well done everyone who completed the Half!