As some of you will be aware I have decided to add RED October to part of my 100 Miles for Mental Health - A challenge that's part of Running for Well-being fundraising for Hywel Dda Health Charities and in particular the Mental Health Ward on which I work as a staff nurse.
For those who do not know RED is abbreviated runners speak for 'Run Every Day' ...
I have a real passion for both running and mental health and I am always eager and thrilled to marry the
two, not only for my own benefit, but in this instance for others too. I am, what you may call and is regarded in the running community as a ' therapy runner '.  Running is my form of escapism, but ultra adventure seeker Alfie Pearce-Higgins notes in his article 'Why do we run until it hurts?' there are those of us who surpass the therapy run threshold and take our running to the extremes.
Extremes which push our bodies to the limit of physical capability and challenge our mind to withstand exhaustion and all that is associated with it, but why?
I read through this article like a tick list, but it also makes me think... 'how do those who don't run or seek out extreme adventure stomach the thought - and quite rightly! I think something along the lines of ' why, oh, why? ' would cross their minds and they'd be baffled!.  So I had to consider 'why' myself. One reason that crops to my mind... as i run a lot for charity, I think my family and friends need to see more from me to part with their hard earned cash!! To be honest, i think i'm being dramatic and a tad unfair on them.  I don't actually think that is true; they would support me no matter what I do, however, I do feel a self-imposed obligation to do more for these charities, along with providing value for money ;-), and form me that comes in the form of my physical suffering.
But, get this... I like it! That is the truth - honestly.  Perhaps not during, but definitely after.  It satisfies the disconnect, something mentioned in a Cardiff University research paper 'Selling Pain to the Saturated Self', that between modern day comfort and the bodies craving for 'sensory intensification' while providing a somewhat healthier alternative of escapism as opposed to drugs and alcohol. Not that I am opposed to the odd tipple, hell who am I kidding, I love a drink, I just don't crave it and I believe that is partly to do with the fact I have found my form of escapism through running.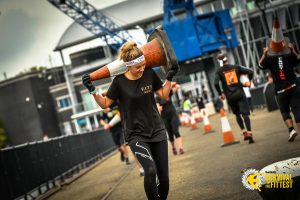 I feel that this seeking to continually push my body to extremes is a way of building personal self confidence through physical pain and endurance and reaping the rewards of the endorphin powered 'runners high' hit.  Having experienced many aspects of poor mental health myself in the past, running has offered this self proclaimed ostrich a way to pull her head out of the ground and prove that given the right conditions she can be earth's fastest two legged creature... OK that's not true either but I am simply no longer happy to lie in the sand and play dead like a threatened ostrich, especially as I am blessed with two working legs, a fairly healthy body and a mind that can and will endure the challenges I set it no matter how scary they may be. Furthermore, this mindset is transferable to everyday life, bonus!
Each finish line is an achievement and each bad run a learning opportunity and hey if I can help others in
this self-searching, modern day quest to satisfy my cave girl needs, all the better for everyone.
Please follow me on my mammoth month using the following hashtags:
#REDoctober
#100MilesForMentalHealth
#RunningForWellbeing
I will be keeping all my social media pages updated throughout October:
Twitter: @Reasonto_run
Instagram: @reasonto.run
Facebook: @reastorun
Blog: www.reasonto.run
JustGiving: justgiving.com/runningforwellbeing