Anyone that knows me, knows I love a half marathon (despite around 5 years ago confidently denying I would ever run one… I was a happy 10k girl at that time).
Then after wanting to do something to support Harefield Hospital, where my father passed away, I entered my first half, which just happened to be Cardiff.  After the initial, shaking and nervousness wore off, I thoroughly enjoyed my first one… coming in at a respectable 1:55:39, I was hooked.  No matter where I run a Half Marathon, Cardiff will always be my favourite. It's my home half.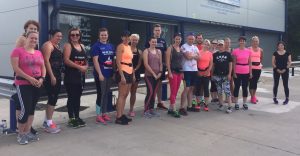 However…. This year's run will be a little different.  I'm not running on my own this year, I have a wonderfully motivated and determined bunch of runners joining me from Run Diva Run to take part in their very first half!  To say I'm excited is an understatement.
When I first broached the subject to the run group, we had a few non-believers… I don't think I can repeat their actual words…… Now, with time moving on, we have an amazing 38 of them booked onto the race!
After an initial #RuntheDiff meeting (in the pub of course, my thinking was give them a few beers and they will sign up!) and some wonderful training essentials (water bottles, bum bags, training bags, TShirts & Hoodies), given to us by Do it Your Way (http://doityourway.info/), the runners started to believe.  I wrote them a training plan, included a little bit of info about the half marathon course, what to expect on the day and running essentials, trying to alleviate their fears.
The training is now in full swing, with the run group, going from 8-10k and smashing out a 16k run on Sunday.  I've chosen a Sunday to provide the half marathon training, as I figured it would get them used to running early on a Sunday (same day as the race), so it wouldn't be such a shock to the system on the day.  It will be just another training day, just a different route.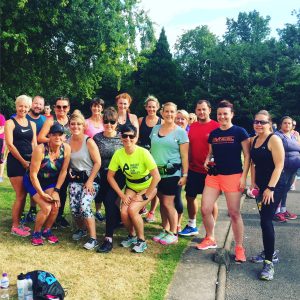 The 'Cardiff half training series' has been amazing for them too, the last route which took them round Roath Park gave them all a chance to test out the final part of the Cardiff Half route before running on the day. I've really enjoyed being able to help out at these sessions as a pacer for the groups too. It's wonderful to hear all the other runner's stories as to why they are running Cardiff for the first time.
I won't be running the Half at my pace this year, my sole aim is to ensure every single one of Run Diva Run get round the course and finish.  This is their first half and I want everyone to enjoy it and feel the total euphoria of crossing the finish line. I've got plenty of opportunity to run at my pace, as October is my #HalfMarathonMonth charity challenge.  I'll be running a half marathon every Sunday in October.  So far I have Cardiff, Royal Parks and Manchester booked.  Two more to book in then the challenge is GO!!!!!!!!
I'm putting my plans in place to be at key points of the Cardiff Half course where I think they will need a little bit of motivation to keep going and trying to work out how to keep in touch with them all on the course if I'm not near them at the time. A loud hailer or walkie-talkies are in contention at the moment! If anyone has any other ideas, then please do let me know!
With 7 weeks to go, their nerves are starting to form and a little bit of excitement too…. but with a 16k run under their belt and most of them running 3 times a week, they are now starting to believe they can do this.  They are motivated, determined and they all love a bit of bling, with Cardiff half giving out some of the best finisher medals around. I think it's fair to say I am possibly going to be the proudest running mamma ever, seeing them all holding those medals at the after party….. Of course there's going to be one, there ain't no party like a Diva after party and I'm sure it will be one heck of a party too!  They will thoroughly deserve it.