My running life began in September 2015 and I have briefly written about it here, and since that day I have not looked back- it has changed my world.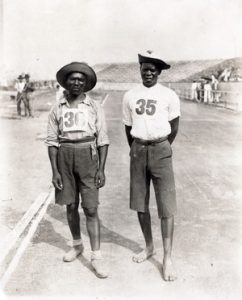 October is the Black History Month and as every year it is time to reflect on our history and what has gone past and the future. I decided this month I would look to celebrate some of the firsts for black runners in our history, and the more research I did the more I realised that there are so many brilliant elite black athletes to celebrate.  From Abebe Bikila who was the first person to defend the Olympic marathon title in 1964 to the most recent, Usain Bolt.  I have also found that the first 2 black runners to a marathon were from South Africa (Len Tau and Jan Mashiani) and that was back in the 1904 Olympics. They are from a Tswana tribe, which, funnily enough is the same tribe as I am from – but I'm originally from Botswana.  Now that would be great story for the BBC's "Who do you think you are!"
Currently I have been reading the book 'Running with the Kenyans' and have been totally inspired by how running has managed to help the families, who'd otherwise be very poor in the country.  According to the book the children in Kenya are now always running to school in the hope that one day they will become elite runners like David Rudisha and Hellen Obiri, and make it big and support their families – can we imagine children in Newport doing this?!
Closer to home (Botswana that is, not Newport) Isaac Makwala's story of him not being able to run the 400m made news here, but for my country it was phenomenal with running uniting people, all with different opinions.  Stories like these inspire the younger children to have something to aim for and know that if they work hard they can achieve anything.
At the Cardiff half marathon 2017 (In which I had a close shave with disaster - but that's a story for another day!) all the top 3 in both men and women were from Kenya, and how appropriate it was as the 1st October was the first day of Black History Month.
As we celebrate Black History Month and the past and present runners who have inspired different generations, my hope is that one day this will also inspire social runners.  When I was asked to write a blog for this month I jumped at the opportunity to celebrate some of the firsts by black people but it soon became clear that most of the firsts came from the elite running community.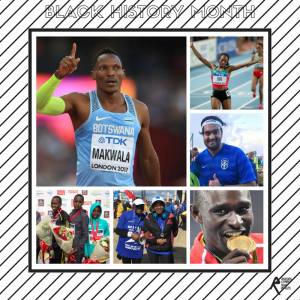 Don't get me wrong we must celebrate them, but we must also ask ourselves why most of us in this country don't put on our trainers and go out running socially? When it comes to social running there seems to be less people of black ethnic minority who take part.  I often wonder why, with so many elite athletes coming from BME backgrounds, that our social races aren't filled to the brim with BME people.  The reality, as I have been entering races, is that there is a distinct lack of BME people at races in the country.  I cannot tell you exactly why this is, but I truly believe that it is worth finding out the real reason.
In my upcoming blogs I will try and explore reasons why and share my experiences in the hope that my story can encourage other people from my background to start taking part as social running can be a platform to success.
For now I would like to celebrate all the black runners out there and say thank you for inspiring our young generation and showing that anything is possible!