---
Summary of Group: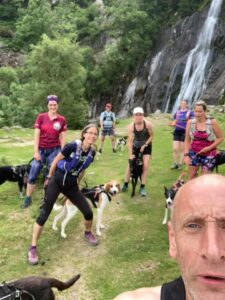 We are a group who promote and train Canicross which is running with your dog, this is done by wearing a waist belt and attached your dog by line, with your dog wearing a harness. This is suitable for all levels of runners and all breeds of dogs. We encourage beginners to the sport and those starting out running and have groups to cater for everyone from run walk to speedies!
TIMETABLE OF REGULAR ACTIVITIES:
Day:
Thursday
Time:
18:00
Level:
Beginner
Location:
Newborough Forest
Cost:
Free
Activity:
Group running
Gender:
Mixed
Club run, 5k to 10k depending on the group, several groups each session so always able to find one that meets your needs.
OTHER ACTIVITIES:
We hold regular intro courses and in edition to the weekly training runs we have social runs some weekends too.
MEET THE TEAM:

James Harwood
Emily Hampton
Jasmine Sharp
Emily Wymer
LOCATION: