"Let's see if we can get the cow to come over for a selfie."
Not words you would expect to hear at m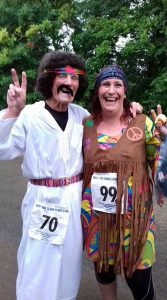 ile four during a 10k race, nor would you expect them to come from a woman dressed as a hippy. But neither would you expect the words to be spoken to another person also dressed as a hippy.
I think the cow took offense at the strange looking people as it just stared at them unwilling to come forward. Luckily the cow seemed the only thing offended by the two crazy people pounding the country lanes shouting out "Peace and Love" to everyone they met. No, those two hippies were met with nothing but smiles, encouragement from all the runners and marshals alike and were even treated to toots of the horn and enthusiastic waves from passing cars.
The hippy trying to coax the cow into having a selfie was me and my fellow hippy was Bob. I had pledged to wear the costume after raising money for charity but rarely do I need an excuse to wear fancy dress. Fancy dress during a race puts smiles on faces of those watching, those running and also on the faces of the ones actually wearing the costumes. Bob, who is already a big smiler and fun seeker, gleefully decided to join in on the fun. I was over the moon to have him by my side.
So there we were tackling a tough race and we took on every hill, we successfully dodged every cow pat in the road and we were doing it whilst having so much fun. Bob is eighty years young and one of the nicest men I've ever met. Bob's company and our mutual love for fancy dress and running made this one of the most enjoyable races I've ever done.
Whilst others chase personal bests I will always chase the fun factor of a race. For me, the fun can also be provided by simple things other than dressing in silly costumes. For example, it could be the scenic views you are privy to along the route itself, it could be talking to a fellow runner who is already a friend or who later becomes one, or it could be as simple as some friendly and much needed support from the marshals.
St Clear's 10k had all of those things by the bucket load.
I didn't go to bed thinking of those precious few seconds that made the personal best, I'll leave that up to those wonderfully impressive runners, instead I went to bed smiling at what the day had held, reliving the laughter that was had during those tough miles and dreaming about that poor cow. I just pray that one day I do actually get that much coveted selfie!