Last year I took on The Diff.  I didn't run all of Cardiff half, in fact I only managed to walk/run it up until the six mile marker, my body said no but determination set in and I walked the rest of it.  It wasn't easy but I did it and I was proud.
I immediately swore never again but five months later I took on Newport half and that I DID run/walk all the way round.  Since then I run/walked two further half marathons and I had big plans for my return to Cardiff this year.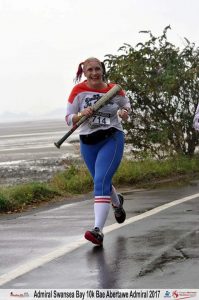 I would return stronger, happier and in fancy dress.  I would be Harley Quinn from the film Suicide Squad.  My commitment to the costume even meant dying my hair blonde with pink and blue ends.  They advise you to try out new clothes/shoes before a big race and the same goes for fancy dress so Swansea 10k would be the costume's test run.
The costume was brilliant and I had so much fun as Harley, complete with inflatable baseball bat but I hadn't counted on injuring myself which ultimately cost me my return to Cardiff half.
I had stupidly done a new parkrun the day before Swansea and jarred my knee.  I ignored the pain and went ahead with the 10k.  By the 9k mark I was in agony. So much so that tears were running down my face.  Thankfully it was pouring with rain so the tears were easily mistaken for rain drops.  And afterwards the pain just got worse.
A week off sick and the inability to walk was also the consequence of my stupidity.
So Cardiff half was not meant to be this year, I cried, I got angry but I finally came around and realised it wasn't the end of the world.  There would be 2018 and I would return to that one even stronger.
But what to do with my injury? The pain was unbelievable! I couldn't put weight on my leg and every time I moved I would cry out in pain.  I avoided the hospital as they would only tell me to rest which is what I was doing but there had to be some way of easing the pain.
I had been recommended a Sports Masseuse from a running friend, at first I resisted because of a bad experience with a sports massage a few years ago but it was two weeks of constant pain that pushed me in the magical hands of Mal from Revive Sports Massage.
I needn't have worried.  Mal listened to my symptoms and appeared confident that he would be able to help me.  Gently he massaged my leg, it hurt as the knots were loosened but I was amazed at how quickly it eased the pain and stiffness.  He really did have magic hands!
The pain has since eased significantly since my visit to Magic Mal and whilst I still have a long way to recovery at least I can walk properly now.  Gone is my limp that made me resemble Long John Silver in Treasure Island!
I did have a race planned for November but I have to be a 'grown up' and admit that I won't be ready to take that one on.  Again, this is a race I've been looking forward to returning to but I've got to listen to my body.
It's been a tough few weeks but I've learnt a few things along the way.  Never do a parkrun the day before a race, never run on an injury and sports masseuses aren't evil beings intent on causing us more pain.
Looking ahead I need to build up the strength in my leg again and I've been advised to walk.  Thankfully parkrun is inclusive of all abilities and on the 28th October Swansea Bay are holding a special fancy dress event so all is not lost! Look out Swansea Harley's coming to get you!