I had been trying to find a local race that I could take part in for a while when a friend told me about Race the Train 5k in Caernarfon. I thought it would be a great idea to get myself involved in something local so I signed myself up.
Once we arrived at Caernarfon (my other half and me) near the train station, we had to go and get my race number quickly and then headed back to the train station and got on to the train. I would say the train journey took about 15/20 minutes and at this point I was feeling quite eager to just get running. Once the train stopped I hopped off and made my way to the starter line with a few hundred others.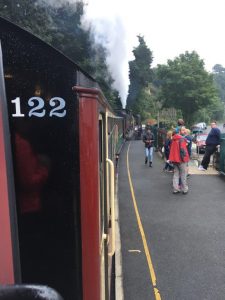 After a little warm up and after getting my music and Strava app ready, we were off! As there was around 300 people or so I ended up not far from the back, which meant that I zig zagged my way through numerous people as I don't really like being hidden away at the back and not being able to see.  It was a nice, 'easyish' run I'd say, flat mostly with the odd small incline every now and then. The train reached me at one point but I managed to get away from it. I think the feeling of basically being chased by a train definitely pushed me to keep at a good pace.
The run was great but the only bit of criticism I can give is the path for the route was too small for the amount of people running on it. I always want to get past people and when there are lots of people in your way it's quite awkward. However, I managed and got myself past many people and the train.
Once I reached the finish line I was extremely chuffed that I had actually made it before the train. It hadn't even crossed my mind before the race that I would make it back down to the station before it. Although I'm sure the train was slowing down and then going faster so I imagine they have a set time perhaps..?
I managed a new 5k personal best too by a few seconds so it shows how trains chasing you can encourage you to go that bit faster! Ha. Anyhow, I'm really glad I took part in Race the Train in Caernarfon and I would definitely do it again.