Hefo rhedeg, y mwy o ymdrech 'da chi'n rhoi mewn, y mwyaf gewch chi allan ohono – fel bob dim arall am wn i!
Os ydych yn mynd yn gyson ac yn cadw'n positif, er gwaethaf ffactorau fel y tywydd, blinder a'r ffaith bod angen mynadd weithia, gall popeth nad oeddech i'n disgwyl digwydd, DDIGWYDD.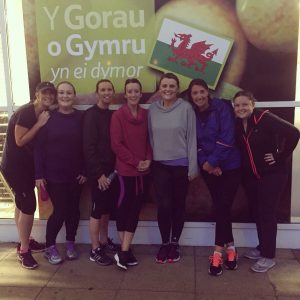 Dwi mor falch i ddweud mai dyma be sydd wedi digwydd gyda fy ngrŵp 'cerdded i redeg'. Maent wedi datblygu i fod yn i grŵp rhedeg cymdeithasol i ddechreuwyr, ac rydym bellach yn 'rhedeg' (yn gyson) ers 5 wythnos.
Datblygodd y grŵp oherwydd eu hymroddiad, eu positifrwydd, a chysondeb o droi fyny yn wythnosol. Mae BOB aelod yn ymdrechu er mewn llwyddo, ac maent yn cefnogi ei gilydd achos maen nhw eisiau gweld ei gilydd yn llwyddo.
Mae'r awyrgylch yr ydym wedi creu o fewn y grŵp yn un saff, cymdeithasol, llawn hwyl a phositifrwydd, ac mae hynny wedi cadw pawb i redeg ac yn rhedeg gyda'i gilydd – heb yr agweddau hyn sa 'Becca's Bay Runners' wedi rhedeg mewn i'r wal cyn yr ail wythnos!
Yn y bôn, be dwi'n trio dweud ydy os ydych yn mynd ati i redeg mae pethau rili grêt yn gallu digwydd – hoffwn glywed am yr hyn mae rhedeg wedi cynnig i chi? Ffrindiau? Profiadau? Hwyl? Ffitrwydd? Cysylltwch trwy drydar gyda'ch stori a'ch llunia!
Bx