I was really looking forward to running the Severn Bridge again this year. I have a slight obsession with the two bridges and was such a fan-girl when I ran the half last year, I just couldn't wait to run it again.
On the morning, the sun was peeking out but it was relatively cool and I thought that I had nothing really to worry about. However, by the time we had started to run it was very hot, and I mean the kind of hot that would scald a lizard!
The route this year had reverted back to the original route after road works had forced a change last year. "The Hill" was back and the Facebook page was full of people dreading the incline.  There's nothing better for motivation than bringing the 'hill' to your attention every time you log on!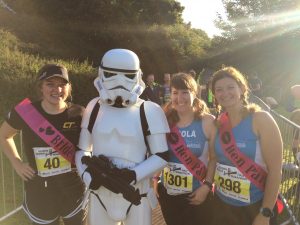 Anyway, I ran the race with friends as part of a hen party and we had a fantastic time chatting and laughing our way around. I did struggle with the heat and found it really hard to keep going from about mile 9 onwards. My friends kept me going and helped me to overcome my mental demons and forget how hot my skin felt.  For this reason I definitely recommend running with others, otherwise I probably would have crawled into a cool corner and shrivelled up!  My friends were my lifeline and the perfect mental boost I needed. This is the way forward everyone, running with hens ;-) !
My finish time was a personal worst for me but I don't actually care. We went to enjoy ourselves and that's what we did.  For me, running is about enjoying myself. I'm not one to push myself so hard that I don't love the experience of the race.  I chat, take pictures and take in the scenery – which on the bridge is fabulous.  So my question to you is, if you don't enjoy it is there a point?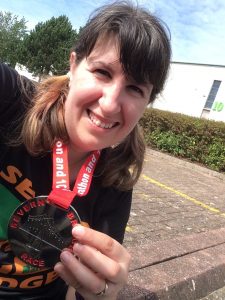 I do love a nice medal, however this year I didn't think it was as good as last year's medal, but that's a personal opinion and I'm sure others will disagree. To be fair, I'm just happy to have the medal!  The race, once again was well organised, and I can't wait to run it again next year.
Find me @mehubbyandkids Alifetimeofdiy.wordpress.co.uk