I'm Brett Davies, and for now I'm the newest blogger to the Run Wales community, blogging is totally new to me, but something tried is something gained – right?!
I'm 38 years old, I live in the Llynfi valley town of Maesteg, where I've lived for the past 11 years with my beautiful wife Jayne and my two outstanding children Mia-Beth 14 and Tiaan 11. Before moving to Maesteg I grew up in the depths of the Afan valley, Glyncorrwg, a small village where everybody knew everyone. My father's family were one of the largest families in the village with him being one of thirteen, so getting away with anything as a young lad, was impossible - I had no chance.
Growing up in small valley community had its ups and downs. Ups being the clean fresh valley air, with endless mountains to climb and wild places to go explore with the only people you knew in the world. The downs of living in a small valley? Not very many people meant that being able to play team sports was hard, plus the sun sets 2hrs earlier up there!
So, it wasn't until I reached secondary school when I was asked to play rugby for the junior section in Neath Athletic, and this is my background.  It was through Rugby that I grew friendships which I still have to this day and the role sports or physical activity has had on my social life; making new friends while enjoying yourself and keeping fit, was massive.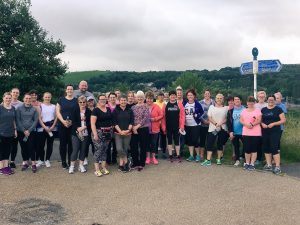 But, my rugby days are numbered by now, so I've been on the lookout for something else to keep me active. So I thought, what about running? For as long as I can remember, running has always been kept to a minimum for me - I mean I ran as little as possible to archive my goals.  So in choosing the new couch to 5k group in Maesteg, I knew it would require a lot more dedication and a lot more effort than ever before!! So as I write this blog, I'm currently just completed weeks 3 of 10 weeks ? – wish me luck for week 4!
So, until next time, where I will let you in on my life changing events that made me take up running ? and change my life for the good, thanks for reading!