Who are we?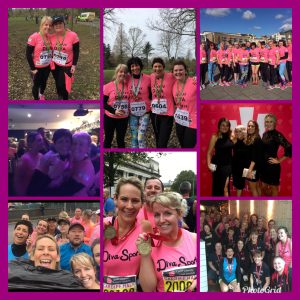 We are run diva run. 
We are a social run group from Blackwood.
We are not elite athletes.
We are proud social runners.
We all have a story behind our love of social running.
We work hard.
We have our own personal goals.
We all have different reasons for wanting to run.
After what has been so far a mind blowing and very proud first year for me as a run leader, I want to share with you, a series of blogs, straight from our runners' mouths.  (I may have had to bribe some of them with cake and beer for these!).  These lovely runners have given up their time to share some of their stories of how they began their social running journey, what made them want  to run, what motivates them to keep going and what it has done for them so far. Real stories from our social runners. It's not all about the girls either.  I'll also be sharing some lovely stories from some of the chaps who have joined us and are embracing the Diva pink T-Shirts at races! These are the people who make our social run group what it is, supportive, encouraging and fun and I couldn't be more proud of them.
So without further ado…… Here's our Annie with our very first 'social runners' blog.
I started my running journey in October 2016 after seeing some of the ladies from Diva Sport start with the beginners run group and progress to completing their first ever race, the Mo-run. I had a case of FOMO after seeing all their medals but more due to knowing how much they were all changing in terms of fitness, shape and stamina.
All the girls were talking about how great the run group was but I never thought I'd be able to run and put off joining week after week. I was already doing Kettlercise and Spin at Diva Sport with the fabulous Diva mama Claire and the amazing kettle ninja Jayne, which was my comfort zone. But after a little pep talk from the lovely Cat Johnson, aka our running mama, I set myself the goal of joining the beginners run group, with the aim of being able to run 3k, which for a complete running novice seemed huge.
So, I nervously joined the beginners run group and week by week progressed from running/walking to running not just 3k but 5k. Each week I was feeling ecstatic that I had managed to run a bit further or a bit faster or had found a route a bit easier.
The sense of achievement each week spurred me on and making so many amazing friends along the way made the journey much easier.
I started seeing my shape change and the pounds drop off which was a great motivator. But more importantly, I suffer from asthma and had been prescribed steroid based inhalers, which I really didn't want to be using long term. So as the weeks passed and my health and stamina improved, I was able to stop using them and now only rely upon ventolin inhalers. So the health benefits of running have been huge!
Running also helped clear my head, ease any stress and helped me sleep better. If I was ever feeling a bit down in the dumps, an evening out running soon picked me back up. Running each week was like therapy – chatting and encouraging along the way! If there was ever a week when I was feeling ill, struggling with foot pain or generally having a bad run, there would always be someone to stay by my side and pull the pace back to keep me going and likewise I'd offer the same support back, knowing how much it has helped me.
It was also great to be with girls who were all full of positivity, confidence, support and fun – rather than having any negativity in the group. Surrounding myself with an amazing group of ladies (and a few fab guys) who all encouraged me week by week also kept me going through the cold and wet winter months.
Before I knew it, I was signed up for my first 10k, the St David's Day run in Cardiff. The whole day was amazing, surrounded by all my lovely run diva run crew and also running with my bestie, Lisa, by my side. Crossing the finishing line with all the other divas was such a lovely feeling and we all supported each other every step of the way. That was it, I was hooked and my first 10k turned into several more, all of which ended with a diva after party, which is now a tradition (we throw a good party by the way!).
After having a couple of 10k races under my belt, we all chatted about how amazing it would be to complete a half marathon, not thinking it was achievable. But Cat being the wonderful running mama that she is came up with a training schedule and advised us that if we wanted to do it, she would train us and get us across that finish line. Cat had total faith in me but I wasn't as convinced and still thought it was unachievable. So, with lots of pep talks from Cat, reassuring me that I was ready for it and with encouragement (nagging!) from one of the guys at run group (Cat's lovely other half Darren) and a few too many drinks, I signed up.  I was super nervous but excited all in one as I never ever though running 3k let alone a half marathon would be achievable.
After a few months of training with Cat by my side always saying the right things, I did it! I ran my first half marathon at Cardiff with my fellow divas and my husband (he had FOMO so joined the Diva gang and even wore a pink diva t-shirt for the half).
The whole route was lined with supporters including my family, my two best friends who stood in the cold with huge banners shooting from location to location to see me at different points. I did have a mini melt down as I ran through Cardiff Bay and thought I'd missed them. I felt awful as they had made the effort to come and spur me on all I imagined was that I'd ran past without seeing them, but low and behold I spotted them. I stopped for a hug and hearing them say how proud they were of me made the tears start rolling. Hearing everyone shout "go on divas" even from strangers was unbelievable and made the experience so special.
There were over 40 of us doing Cardiff half and I ran the route with three lovely members of the group.  One of them being Jodie! All thoughout our training we'd stuck side by side, and the half was no different. We ran the whole way, keeping each company and I would not have done it without her.  As we ran around Roath Park towards the end of the route, we were all flagging. But then came Cat just when we needed her to give us that final push and get us to the end with her never ending enthusiasm and belief in us.
Crossing the finishing line was one of the biggest achievements of my life and I crossed it with Cat shouting at how proud she was from!
The last year since becoming part of Run Diva Run has been the best thing I've ever done.  Not only has it improved my health and fitness, changed my shape, and made me reach goals that I thought were impossible – it has made me realise what true friends are!  Friends who encourage and support each other, give each other confidence and keep each other going through each hard step. I've made friends for life with each and every one of the diva crew.
But none of this would have been possible without our running mama Cat Johnson! She has been there every step of the way, running each race by our side and I cannot thank her enough. I'm not sure what the next goal is but I know Cat will still be at my side, helping me achieve it!