This is Marcia Sinfield (on the left) and Rebecca Woolridge who recently set up a Couch to 5k in Tai Calon housing association for the workforce.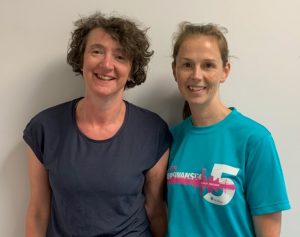 Marcia runs for Run Pen Y Bont and started her own couch to 5k with Pencoed Panthers a few years ago and was desperate to incorporate a workplace running group to spread the running love. Becky, a keen runner, who runs socially with friends, but is considering joining her local club, was also keen for a running group to be an offering in the well-being programme at work.
They got in touch with our activator Hannah, who helped them become qualified leaders - attending a leadership in running course in Llanelli - and talking through how to get the group up and running.
The two were so inspired after completing the course they arranged for an engagement session to be held in the workplace canteen juts two days later, and Run Wales came along to talk to their colleagues about the benefits and opportunities that would arise if there were a workplace running group at lunchtimes.
A fortnight later, the Tai Calon couch to 5k journey began! The group are progressing well and hope to run for around 10 weeks before attending a graduation parkrun at Parc Bryn Bach!
Workplace running has been proven to have positive effects for both the individuals and the employer. We can help you establish a workplace running group, giving you happier and healthier friends and colleagues. Full details can be found here