---
Summary of Group: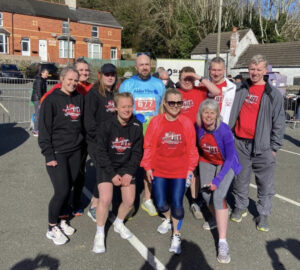 We are a social running group who run for the enjoyment, to maintain and improve both our physical and mental health. We have runners of all different ages and abilities and we pride ourselves on being an inclusive running group who will allow anyone to join.
As we have runners of all abilities we always ensure that no one is left alone and always have someone to help, improve and have a chat with while running around Amlwch and the other local towns and villages. We vary our group runs to ensure they do not get boring and repetitive, we try and mix it up by running road sometimes and others trail and the amazing Anglesey coastal paths.
We try and support as many local races and events as possible to again socialise and to challenge ourselves. So if you are looking for a group to run with that are not too serious and enjoy a laugh and helping each other, this is the group for you.
TIMETABLE OF REGULAR ACTIVITIES:
Day:
Tuesday
Time:
18:00
Level:
Mixed
Location:
Ysgol Syr Thomas Jones Amlwch
Cost:
Free
Activity:
Group run
Gender:
Mixed
These runs vary from 5k to 10k and from road to trail and the coastal path. It is all dependant on who is there and the weather, however on an average Tuesday it is normally around 4-4.5 miles on the roads in and around Amlwch.

Day:
Saturday
Time:
09:00
Level:
Mixed
Location:
Various locations
Cost:
Free
Activity:
parkrun
Gender:
Mixed
Members of the group visit the local parkruns (Nant y pandy, Penrhyn castle and Newborough Forest) for a bit of fun and to try and improve their times, still very social though.

Day:
Sunday
Time:
09:00
Level:
Mixed
Location:
Ysgol Syr Thomas Jones Amlwch
Cost:
Free
Activity:
Mountain and hill runs
Gender:
Mixed
We try and run in the local mountains and hills for the amazing scenery and to help improve our fitness and running up hills. This is a very social and fun run, but can be a bit challenging at times. Members stop at different locations to ensure everyone is okay and still running.
OTHER ACTIVITIES:
We are in the process of sorting out meeting up with other running groups on the island once a month for a change of scenery, to learn new routes, to meet new faces and remain social. When new members come for the first time, we do a 5k route to see how they get on. We then either start a C25K programme with them or they jump straight in and tag along on the group runs. It is all down to the individual and what they are comfortable with.
MEET THE TEAM:
Steve Bernasconi, Run Leader
Tony Fitzmaurice, Group Support
LOCATION: