---
Summary of Group: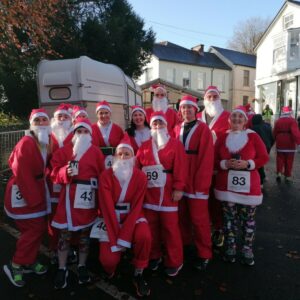 The group is formed mainly from the graduate of local Couch to 5k programs.
There is a great team spirit with huge amounts of mutual support and many friendship groups have formed in the group, friends who possibly would never have met if it wasn't for the running group.
We tend to avoid competitiveness as it's all about people's individual progress and within the group we have a wide range of abilities.
We are the Chatty Pacers as we are here for the social side of things, as well as getting fit for health and mental wellbeing. Runners are encouraged to run at a chatty pace, which keeps the runs enjoyable and social.
TIMETABLE OF REGULAR ACTIVITIES:
Day:
Monday
Time:
18:00
Level:
Mixed Ability
Location:
Ammanford Bowls Club
Cost:
Free
Activity:
5k or 4 mile loop
Gender:
Mixed
Choice of a 5k or 4mile loop with optional cut outs to reduce the distance if necessary. Runners keep in subgroups depending on pace and distance.

Day:
Wednesday
Time:
18:00
Level:
Mixed Ability
Location:
Ammanford Bowls Club
Cost:
Free
Activity:
Out and Back Run
Gender:
Mixed
A timed run where runners will run outwards on a set route for 23-25 minutes (agreed at start), turn and return. Again, runners stay in subgroups and distance travelled depends on pace so great for mixed ability.
OTHER ACTIVITIES:
We meet twice a week for a 5k and a 4mile run (choice of distances), and have a coffee after our Monday run.
Once or twice a year we will run a Couch to 5k program. Also, we take on beginners and mentor them to get them up to 5k if they have missed the Couch to 5k programs.
We encourage attendance of local parkruns and when group members attend parkrun they tend to keep together in little groups.
MEET THE TEAM:
Anthony Warden, Run Leader and Group point of Contact
I've been running for 7 years, love it, it's changed my life. Got involved in the local running club (Amman Valley Harriers) and the local parkrun. Became a qualified run leader and coach in running fitness and with the support of the club become involved with running a social running group.
Rachel Lewis, Run Leader
Qualified run leader, helps out on club runs. Been running for 5 years, background in playing netball and got involved with running through attending a 5k to 10k improvers group through the Amman Valley Harriers.
LOCATION: