---
Summary of Group: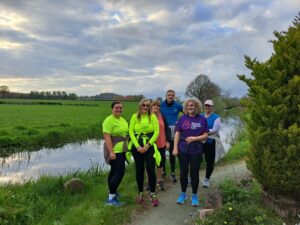 RunChums is a friendly club which welcomes ladies and gents, irrespective of age or ability.
TIMETABLE OF REGULAR ACTIVITIES:
Day:
Monday
Time:
18:30
Level:
Mixed Ability
Location:
Four Crosses area
Cost:
Free
Activity:
Weekly run
Gender:
Mixed
Runners will be in groups according to ability and will be led by a qualified leader. We may be running on road, canal, off-road, or doing a training session.
OTHER ACTIVITIES:
Our next beginners' course starts on Monday, 11th September 2023 and will be based at Four Crosses School car park at 6.30 weekly.
MEET THE TEAM:
Claire Allen, Club co-founder
An experienced C25K leader. Off-roader, half-marathoner, currently training for a full marathon.
Caroline Johnson, Club co-founder
Also an experienced C25K leader. Multiple marathoner and Ultra runner. Wide knowledge of sports-related injuries and how to treat them.
Zoe Davies, Run Leader
Qualified LiRF in December 2022 after having spent many years helping with C25K courses. Half marathoner, currently training for a full marathon.
Laura Birch, Run Leader
Experienced leader and trainer in her own right. Lydiard Level I and II qualified. Marathoner, off-roader.
Charlotte Foster, Run Leader and Guide Runner
Charlotte's an off-roader and marathon runner. Also a very experienced trainer.
LOCATION: