The Coldra Court Hotel by Celtic Manor provided an ideal setting for the Welsh Athletics Awards Dinner where almost 200 people came together to recognise and celebrate the fantastic work by done by clubs, social running groups and volunteers over the last 12 months in Wales.  Over 300 nominations were received across the various categories, the highest number ever received.
The evening was led by Rob Cole and National Performance Centre Coach, Matt Elias, who also led a series of questions and answers with the likes of Matt Newman, CEO of Welsh Athletics and Sioned Jones, Run Wales National Manager.
The evening also provided the opportunity to reflect on the strides made by both Welsh Athletics and Run Wales.  Social running and mass participation is ever on the increase and this event provided us with an opportunity to celebrate the growth in the area.
For both Run Wales Group of the Year and for the new category of Run Wales Leader of the Year the number of nominations received were sky-high and the panel had a tough time deliberating over the winners.  All the groups and leaders that were nominated could have been winners, but this year it was Canton Chargers a social running group based in Cardiff and Cat Johnson a Run Leader for Run Diva Run that were the victors.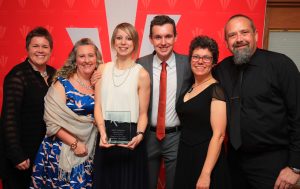 Established in 2014 by Gary and Amy, Canton Chargers is a free and friendly running group that welcomes runners of all abilities, speeds, shapes and sizes and provide opportunities to meet fellow runners, sharing experiences and advice. They meet up every Monday night for an hour of social running, and it's open to everyone.  There are no restrictions, as anyone can run at their own pace and sessions are fun and informal. They also offer a beginner's programme, Canton Starters which is a six week course for completely new runners who have yet to run their first 5k. Find out more here
"My running club only went and won an award this evening!" quoted Amy on Twitter
By day Cat Johnson is an account manager working full time, and by night she is a Run Wales Run Leader for Diva Sport based in Pengam, Caerphilly.
She's always been a runner, and she loves it – so much so that she blogs for Run Wales about her trails and tribulations.  Back in 2016 she was offered the opportunity to do a Leadership in Running Fitness (LiRF) course to become a Run Leader and she hasn't looked back since. She now runs 7 groups for Run Diva UK, who, have over 80 women (and a couple of men) running in their groups.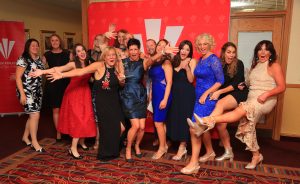 Cat is a leader extraordinaire and in this year's Cardiff half she supported (literally helping all of them cross the line) 37 new (never ran a half before) runners, which meant that she ran a total of 18 miles herself!
Cat said of the evening "Absolutely over the moon! Thank you Welsh Athletics and Run Wales for my award of #runleader of the year 2017!  It's been a fabulous night! Well done to all the other winners. Proud to be part of it all."
Congratulations to both Cat and Canton Chargers!  Keep up the good work.