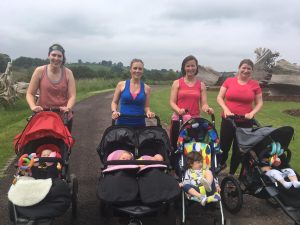 The Botanic Gardens Buggy Group meet weekly at The National Botanic Gardens of Wales in Carmarthenshire on Tuesdays at 10am. The group started in September 2018 and is going from strength to strength. Lisa Evans, the new running leader of the group said, "I'm so glad to have found the Botanic running group. The first few sessions were so hard, it felt like I would never get my fitness back but thanks to the motivation and encouragement from the run leader at the time and other members I stuck with it and now 6 months on I've entered a 10k and am contemplating entering a half marathon!"
Mothers who are unable to attend the group can also stay involved through their supportive Whatsapp group where members are able to seek and offer support to one another. Lisa said, "The group is more than just exercise and improving physical health, it's also a support group which can give reassurance that other mums are experiencing similar situations. Each of us has struggled at different times but there's always a sympathetic ear or a motivational word that keeps us going.
The babies also love being in the fresh air and usually fall asleep as we're running. We are very lucky to be able to run in such a beautiful location and of course have the option to enjoy a nice coffee or treat afterwards and when the sun is out a picnic!"
The group caters for all abilities and the words that are frequently used amongst this social running group are inspiration and motivation! As fitness levels have increased some of us have completed Race for life and local 10K races. When asked for feedback, we were met with a wealth of responses. Below are some of the comments made by members of the running group.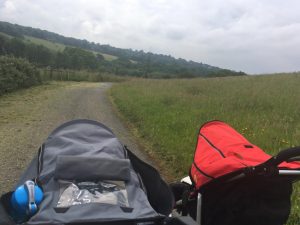 "Brilliant run this morning. I really enjoy coming, going to miss it when I'm back in work." (Suzan)

"I loved the catch up and company!" (Emma)
"Was awesome run this morning, wish I could come every week." (Angie)
"It was 100%what I needed natural endorphins and good company." (Gemma)
"I really enjoyed so glad I got out even in the rain thanks all." (Jeanette)
"Such a fab group." (Sarah)
"I know I've been absent the past few months, but those sessions at Botanical gardens inspired me to get fitter and get back out running." (Lorna)
If you are interested in getting started with this supportive and friendly group of running mums, then check out their page for more information and contact information
Or if you are looking for a running group a little closer to home, check out our club finder here