"Alison is always there to support and encourage me. If anyone is thinking of doing Couch to 5K go to Alsion, she's fantastic. She has been my rock throughout my journey."
   Alison Hopson started her social running group in 2019 'Let's Get Running C25K' after taking running up herself back in 2017. She said, "I joined a running group in my local university sports centre, and thoroughly enjoyed it and the benefits for my physical health was outstanding this is where I found my passion for running and I really wanted to help those who struggle to get out running."
Alison has already helped two groups on their Couch to 5K journeys and is now on her third group. She has received lot's of positive feedback from her Couch to 5K graduates. One graduate said, " I did the C25K with Alison in July, I did not think I would be able to run 100 yards let alone 5K but with alison's help and support I was able to complete the 5K in Llanerchaeron Park Run"
However, she still often supports the group members that have since moved on. She said, "Some of my C25kers have gone on to achieve pb's in their park run from my first group and some have even signed up for a 10k. I have offered support to them even though they are no longer in my C25K group. I am always on the other end of the phone for support or to even go running with them if they need it."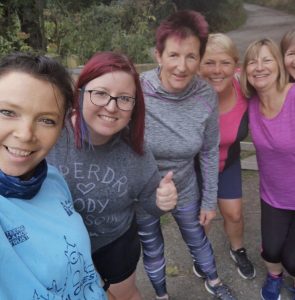 She has more and more people looking to join her group and the atmosphere is very positive. Alison said, "The atmosphere is very positive, very alive and most of all very supportive of each other as I always use the phrase "when we support each other something amazing happens"  my current group have put in 100% effort and work so hard each week and are already feeling the difference in their pacing. I mix up some sessions with hill work and a relay. Some who attend my class are coming back into running having lost it for some time and are thanking me for helping them find their passion back in running and how much they thoroughly enjoy it."
If you are interested in joining her group, you can contact her via Instagram (@c25kwithalison) or take a look the Let's Get Running page on our website.
To find a running group near you use our search facility here: https://irun.wales/group-running/find-a-group/