Katherine and James from, Yr Hen Blwyf, the Old Parish running group in Maesteg saw the Run Wales relay on offer and knew it would be a great opportunity for their group to get involved.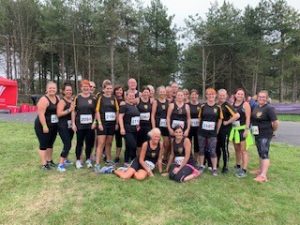 They thought it was such a great idea that they managed to rally 8 teams worth of runners together for the event, which was a huge presence at the Pembrey country park on the morning of the 15th September.  
With names such as 'the shady ladies' taking on the 'Badass mother runners', 'ginger ningas', 'green flashers' and 'who let the goats out' enjoyment was clearly the first order of the day. 
The Old Parish really took the fun and camaraderie vibe that Run Wales were hoping to achieve at the relays onboard and when they bounded over to the Run Wales registration tent on mass they brought excitement and enthusiasm with them; two huge elements that were bound to make the day fun.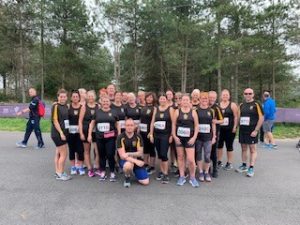 "We saw the relays advertised and just thought it would be a great, fun way to spend a Sunday and the event did not disappoint."
When asked whether it was an easy gig to organise both Katherine and James said the process of registering and putting the teams together had been a breeze. 
"We basically asked everyone if they wanted to come and then put the names in a hat so there was no technique or tact to what we were doing."
Having the biggest presence also meant the Old Parish had the biggest voice and as they cheered their last runners over the line it was a pleasure to see everyone embrace team spirit which encompassed within the whole day. They both agree that this was a fantastic way to bring their group together, have a great day out and enjoy something a little bit different with their running.
'Next year we hope to take even more teams!' Both Katherine and James agreed and we can't wait to see them!