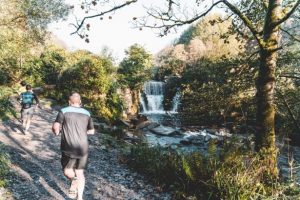 1st March 2020 will see the introduction of a new Trail Running Group at the Botanic Gardens in Llanarthne.
This will be the fourth dedicated Run Wales trail group, we already have successful groups at
Penllergare Valley Woods (PVW) who meet every Sunday morning at 10am.
Bryn Bettws Lodge, Afan Forest (Trailblazers) who also meet at 10am on a Sunday morning,
Swiss Valley Llanelli on Sundays at 10.30am
"All of these groups are Trail running shoes recommended!"
So what are some the benefits of trail running?
It uses more muscles than pure road running, as your core, feet and ankles all play an important part in maintaining your balance
It helps reduce the risk of injury as gait and footstrike vary on the mixed terrain
Due to the terrain and the increased use of various muscles, trail running also burns fat quicker than road running
As well as a good physical workout, it's also a good mental health boost – running in nature is known to produce endorphins which enhance your mood and make you feel more positive
The air you breathe is fresh and clean
Why not bring your group along to one of these trail groups, get in touch with the run leader on the website group finder