Earlier this month, three workplace run leaders won a Workplace Health and Wellbeing Award at a Health and Wellbeing Achievement Event with Carmarthen Council. Viv, Linda and Gillian have worked hard to set up a workplace running group within Carmarthen Council which has seen more positive success.
Viv, who is also a run leader for Sospan Road Runners in Llanelli, said that "many have said they feel fitter and generally better as well as mental health (stress levels decreased) has improved."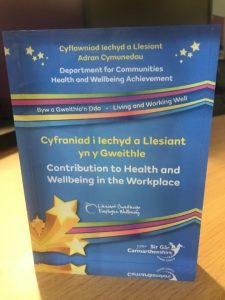 The workplace group has been running for over 2 years and the runners have progressed well with some of them taking on multiple 5k and 10k races during that time. Speaking about the group, Linda said, "The group started running just under 2 years ago and we joined with the We can Run group that were based at Llanelli Leisure Centre. The individuals that I support attend Coleshill Day Centre and have all got Learning Disabilities alongside Mental Health issues but the We can Run group openly welcomed us into the group which was amazing. It was hard to get the individuals motivated when the weather wasn't too good in the beginning and we sometimes were up against the parents/carers about taking them out as they were afraid that they would become unwell. We persevered  and we have been quite fortunate to be able to use the facilitates at the leisure centre from having a cuppa on return from running to using the showers, all this has been a benefit and had a positive impact on the group."
More people have since got involved in the group and the positive impact has been massive. Linda continued, "I would even say that there is less sickness leave with the individuals and staff since the group has started. Most of the individuals that are part of the group are also part of an inclusive netball team Ser-Y-Byd and we have seen a huge difference in their fitness/speed which has helped to develop the team and their game which is win, win for the team."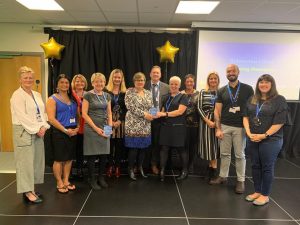 All three leaders love leading the group and seeing the positive changes with their colleagues. If you were thinking about starting a workplace running group then Viv says, "Go for it!  It's easier than you think – posters etc to advertise and try to raise profile of it within the office." Linda added, "I have seen so much wellbeing and progression over the time the group has been going I would say to anyone thinking of starting a group, do it. It will be the best thing you will do."
You can find out more about workplace running here.