In 2018 I was in such a dark place both physically and mentally, every day was an uphill battle and even the simplest of tasks like getting out of bed felt pointless to me. I would speak to no one about how I was feeling and was in denial that I did have a mental illness. I saw no way out and felt I had no other choice but to try and take my own life, thankfully I was unsuccessful in doing so.
In January 2019 I saw a poster as I was driving advertising a free social running club, I thought to myself what have I got to lose?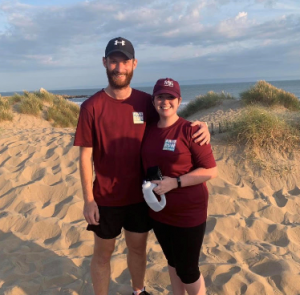 After battling with my anxiety and self-denial I plucked up the courage and went to my first session and since then I have not looked back. Absolutely everyone was so welcoming and supportive. I was so unfit and out of shape even walking up the stairs would make me out of breath. With the help from Emma and Steph and all the members of Just Run Penybont I managed to complete the couch to 5K programme and completed my first non-stop 5K on the 23rd May 2019. I remember Emma sticking with me the entire way and never letting me feel as if I couldn't do it.
Through Just Run PenYBont I have made friends for life who I honestly feel like I can tell absolutely anything too. I still struggle with my mental health but this only motivates me more to get out there and go for a run, never in my life did I think that my release when I'm feeling depressed would be to put on my trainers and go outside come rain or shine. Since starting to run I have lost nearly 2 stone which has helped me hugely in starting to feel like myself again.
I have now booked both my first 10K and half marathon for 2020 and I can't wait to complete them representing not only Just Run PenYBont but also the charity Mind.
---
Inspired? If you're looking to start your running journey in 2020, we can help - Support to get started