Run Wales will shortly be launching 'Step into Action', a social walk-to-run group in partnership with Diabetes UK Cymru, aimed at encouraging people with diabetes to get active. Over the coming weeks, we'll be hearing from four runners with type 2 diabetes about what inspired them to start running and what impact it's had on their diabetes.
Andrew M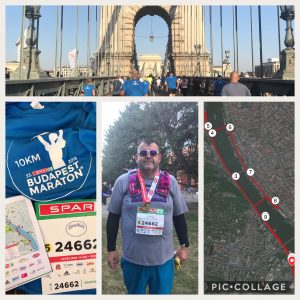 Andrew was diagnosed with type 2 diabetes in late summer 2016. Andrew says, "looking back, the diagnosis probably shouldn't have been much of a surprise – all the warning signs had been there for a while. Recovery from a simple common cold was slow, small cuts took ages to heal, and my tiredness and lethargy were unreal." Andrew confesses that his lifestyle had much to do with his poor health: "I was living on takeaways, alcohol and sugary drinks, and bars of chocolate when I felt my energy levels were low. It was a downward spiral."
The type 2 diabetes diagnosis was the kick-start Andrew needed to improve his health and, with the support of family and friends, he began making positive changes. Adopting a good diet was his first step in the right direction, and he monitors what he eats daily through 'My Fitness Pal'. He then started running in 2017 as a challenge for a friend's 40th birthday year.
During 2017, Andrew's father passed away. Andrew says, "before he died, my Dad kept telling me that underneath everything there was a handsome man. Now, I hear those words in my head every time the going gets tough, be it on a long run or during one of those days when I'm tempted away from a healthy lifestyle. It's the push that drives me to stay fit for my sake and that of my family."
Andrew now tries to run at least 20–30 km per week and, combined with a balanced diet, has lost over 30 kg since his diagnosis. Andrew says, "I've been able to control my diabetes with diet and exercise and so far since 2016 each annual diabetes test has shown lower sugar levels. I now enjoy the challenge of beating the sugar score each year!"
In addition to improving Andrew's general well-being and helping to control his diabetes, running has brought other benefits. Andrew says, "it gives me time off from the world, space in which to clear my head, a challenge, and the chance to go to some great places." Various running events have already taken Andrew to Budapest (where he raced against a bus), Munich (where he finished a 10k race with a lap around the Olympic stadium), Stavanger and Spain.
Andrew found his biggest challenge when he decided to take up running was how he looked. He recollects, "I was a fat, overweight bloke going running. But I shouldn't have worried – I've had compliments from Commonwealth Champions, Olympians and many more." Andrew advises, "don't worry about how you look, block it all out and just think of you." Andrew recently joined Canton Chargers running club and has found "an incredible group of runners with so much knowledge."
Andrews offers some key tips for anyone with type 2 diabetes who is thinking of taking up running: "don't think, don't dwell, just do! Firstly, get some good trainer advice. If your feet are comfy it's amazing how comfy the rest of you will be." He also recommends the 'Couch to 5k' programme in order to allow you to start slowly and steadily, and says, "avoid 'quick-fix' programmes, which don't work in the long-run." Andrew adds, "you will be surprised how quickly your body shape changes and how good you'll begin to feel," and recommends 'before' and 'after' photos so you can document the body shape changes.
Andrew now enters a timed race at least once a month and is reminded of his achievements by the medals hanging at home. In between, Andrew enters virtual races to keep himself motivated and maintain the 'bling' haul. His target is to complete a 10k in under an hour – with his current personal best at 1 hour, 4 minutes.
Go Andrew, you can do it!
—————————————————————————————————————————–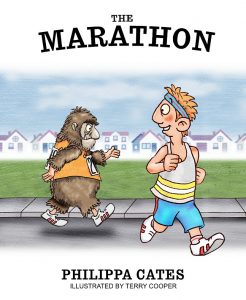 Our thanks to author and established medical communicator, Philippa Cates, for speaking to Andrew and writing this blog. Philippa Cates is no stranger to the mental and physical challenges of running and has written a book about this wonderfully exhausting pastime. The Marathon celebrates this fantastic achievement but also highlights in a comedic way the potential pitfalls of taking part. Her book is available to buy here.