Three years of #JustRunPenybont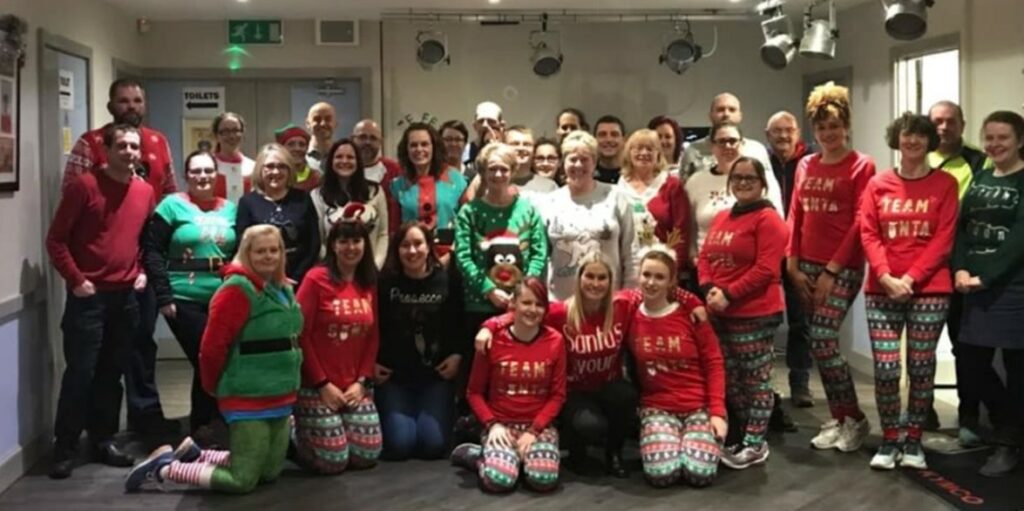 Back in 2018, out on a run we were chatting and had an idea. What if we started a running group. One where there was no cost, people just meet to chat and run. Removing any barriers we could, no cost, no membership, no pressure and no commitment. We don't care how far you go or how fast, its just chatty running. Could it work? Would anyone come? Well on 4 September 2018, we stood in the car park at Penybont football club, and close to 50 people turned up. Yes indeed it could work.
From there the groups kept growing, friendships were forming. Co-founders, Emma Marshall and Stephne Puddy said,
"Seeing the change in people it what makes it worth it for us.  When they arrive nervous and looking at the floor and telling us they can't run to then building up their confidence and running 5k, the transformation is amazing."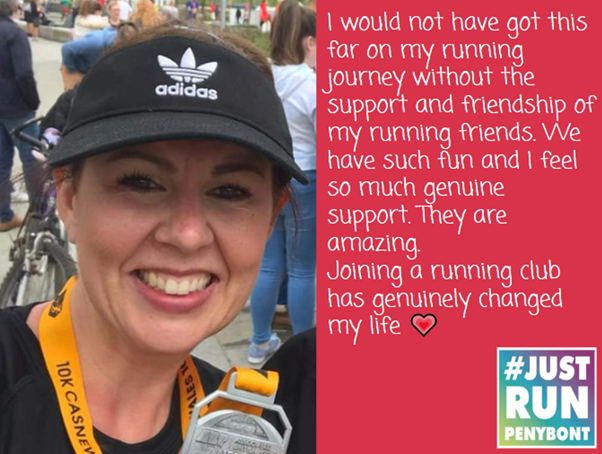 So much has been achieved in the three years, it's been a bit of a whirlwind.   The group really has become everything we wanted and so much more.  We have had teams help at the Cardiff 10k, completed Penyfan sunrise walks, helped members train for their first parkrun, fun and laughter at Christmas parties. Oh, cake – there has been so much cake!   But in addition to this there has been the support networks created, the safe spaces for people to talk, the new friendships and helping people manage their anxiety or daily stress levels.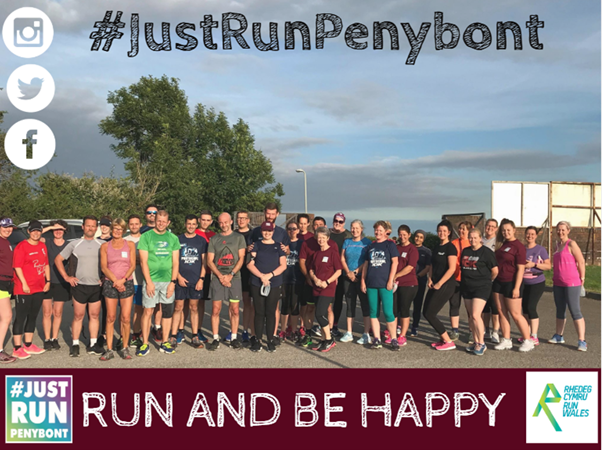 Annually we celebrate key dates to bring the group together. World Mental Health Day, Suicide Prevention day, Pride. There are lots of reasons different days mean something to our members, and it helps us become stronger.
We have raised money for MIND, Macmillan Cancer, 2 Wish Upon a Star, Local foodbank and Jacob Abraham Foundation.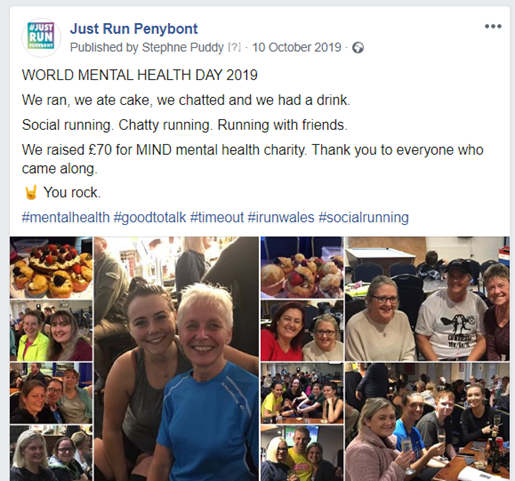 Inspire Awards
In 2020, just before lockdown we won an award with Bridgend Council – it was the Inspire awards and we won the award for 'Made a Difference'.  This mean so much to us, and it really pulled everything together.  It made us realise how much the group means to us.  But also that we don't make the magic happen – all the members that join us for our runs do… But then the world changed…. Watch the film from the awards here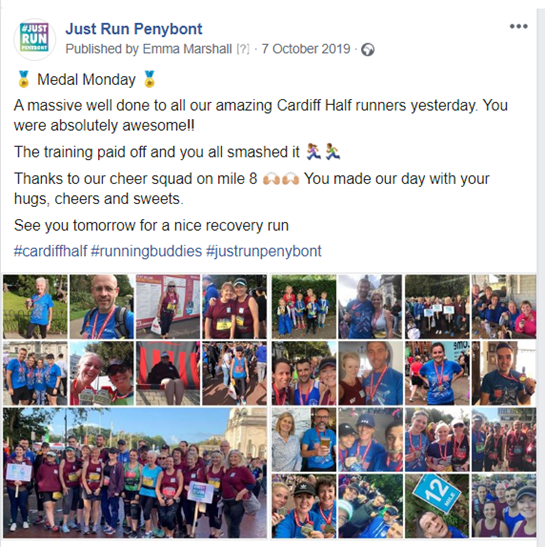 Lockdown wasn't going to stop us!
When we went into lockdown, initially we thought it might be a couple of weeks.  However then we realised, this is going to be a bit longer.  So we had zoom bingo, quiz nights and themed runs.  On our private facebook group we created weekly wellbeing posts – somewhere that the group members could reach out to others or vent on how they were feeling.
Only men allowed..
It was in lockdown that one of our run leaders, Jonathan Tidball, created Just Men Run.  Jonathan is a trained mental health first aider and is on the board for NPT Mind.  He created a private group where men could reach out and support each other with any issues they may be facing.  They have had their own zoom calls / pub nights and zoom runs.  You can hear more about it when Jonathan meets with Hannah and Chris from Run Wales – the podcast is out soon.
So happy to be back….
Being back running in groups now feels so good, everyone is so happy to be able to see each other again and be back enjoying our chatty happy runs.
We have a new beginners group starting in September, Jonathan is continuing with this men only group who meet once a month.  Check out our Facebook, Instagram or Twitter page and come and join us.