Eve was part of the 2016 Alfie's Angels programme that culminated in her taking on the Cardiff University Cardiff Half Marathon. The first time she got together with others at a Run Wales training run, she took on a 2 mile run supported all the way by Hannah Phillips, Run Wales Activator.
"I remember Eve completed the 2-mile training run with me during Alfies Angels and then burst into tears because she didn't think she'd ever run 2 miles. Then she did the half, then she kept running and running and then last week she did the London marathon! She's amazing, and I'm so proud of her!" said Hannah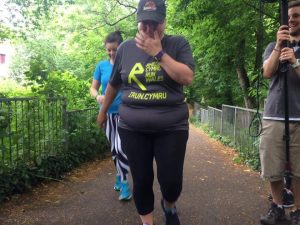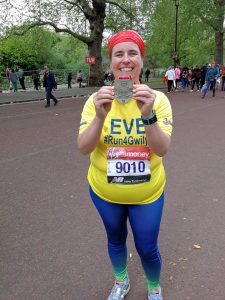 Since Alfie's Angels, Eve has stuck with her running and this year took on the London Marathon to raise money for Gwilym. Gwilym and his family are friends of Eve and live in the village where she grew up. Gwilym has Down Syndrome and needs specialist speech and language therapy which is not available on the NHS.
"Running has truly changed my life for the better, I've made new friends for life, I'm healthier and happier and wouldn't change it for the world and I would have never said that three years ago."
Eve continues to raise money for Gwilym and runs with Cornelly Striders