So, Sophie, when did you start running?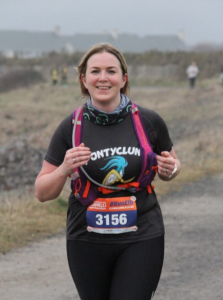 "I started in June 2012; my first run was around Roath Park, and I covered 3.5km in 28 minutes and 40 seconds. I didn't follow a formal plan, just kept on building it up until I could make it all the way around that 3.5km loop without walking!"
Who or what inspired you to take up running?
"A group of friends had entered the Swansea Bay 10km in September 2012 and I was determined to get involved. I ended up enjoying myself so much that I also ran Cardiff Half Marathon that year as well!"
What motivates you to keep getting out there?
"There are so many reasons. I love seeing what my body is capable of and the effect that training has on my race times. I love spending time with friends while out running, and getting to see the beautiful countryside that we live in. I love the headspace that running gives me, and how I always feel calmer and more able to cope with life after a run. I love the feeling of smashing a PB and the nervous excitement the day before a race- not to mentioned the prosecco and carbs afterwards!"
What do you enjoy most about running?
"I love helping others to achieve things that they never thought that they could do and supporting others to achieve their goals. I have recently completed my Leadership in Running Fitness qualification and can't wait to put it to good use!"
What goals have you set yourself this year?
"I wanted to achieve a new PB across every race distance and achieved that in April. After a busy first half of the year I am going to take some time off from racing for a few months and focus on training for the Cardiff Half Marathon in October. This is my favourite event and I have a goal in mind for it, but it's going to stay a secret for now! I'm also going to have my first go at pacing at Swansea Half Marathon and hopefully will be able to help people achieve their target times."
What would you say to someone thinking of trying running for the first time?
"Just do it- it will change your life. That sounds quite cheesy and overdramatic but it honestly will. You will meet new people, you will feel better about yourself, you will get fitter and healthier, you will be amazed by what you can do. Don't be scared of what people will think of you or worry about what you look like- just get out there and give it a go. I can't recommend joining a social running club enough for those who are new to running- they will give you the support and guidance you need and you'll make some friends for life in the process!"