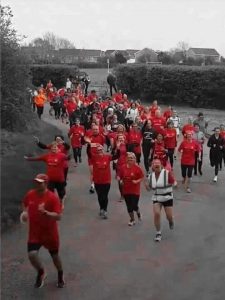 We recently caught up with Simon Jones of Llantwit's Major Milers Running Club to discuss the evolution of their running club and how they've engaged in numerous community wellbeing projects in recent months. 
RW: When did Major Milers form, and how did the idea come about to start a social running group?
SJ: "A Facebook post enquiring if there was a running club in Llantwit was posted in April 2017. Following the post the 'Llantwit Major Running Hub' Facebook page was created asking if there was any interest in a running group. It soon became clear there was significant interest and following a couple of weeks of posts on social media, 47 runners attended the first organised run on 27th April 2017.
Members then voted on the name Major Milers Running Club. We held our first anniversary run in April 2018 when over 100 runners attended. They had an added incentive that day as we hired the local ice cream van to attend at the finish line!"
RW: We've seen you getting excellent turnouts in recent months at your weekly runs, what factors do you put this down to?
SJ: "The group has grown rapidly since inception. The success has been due to a number of factors. We love the way members encourage each other and have take ownership of the group by becoming qualified Run Leaders, first aiders or by volunteering to tail run. The camaraderie between runners is great to see, encouraging each other and welcoming new runners which is amazing to witness.
Other initiatives we have included are our Major Milers Loyalty Cards - if you run regularly (100km in a 3 month period) you become entitled to a Loyalty Card. We have 30 local businesses involved in the Loyalty Card offering anything from a free coffee refill at the local coffee shop to 20% off driving lessons or 20% off with the local electricians, plumber or painter/decorator.
We also keep runs varied and organise fancy dress and fundraising runs. For example on 1st May 2018 we were invited by RAF100 to carry the RAF100Baton Relay home to Wales. Milers ran the baton from RAF St Athan to Llantwit Major visiting local schools & businesses. A great honour for the club. Another example of the togetherness was in August 2018, when Major Miler Runners wore rainbow laces during their runs to show support for Llantwit Major's inaugural Major Pride event"
RW: What would you say to encourage any new runners who might be contemplating joining a group like the Major Milers?
SJ: "It can be fairly lonely running by yourself and unless you have the motivation to do this your good intentions can unfortunately be quickly eroded. By running in a group you soon become integrated into it and cannot help but get involved in the friendliness of the group which will help you meet your goals whether it be just running for health or training for an event."
RW: We've seen your group taking part in RED January, can you tell us a little bit more about what that involved and how many members participated?
SJ: "We initially had around 25 from the club who decided to attempt RED January. The majority all completed daily runs, swims, cycles, walks and gym sessions. Three of our club members continued with RED January and recently completed RED50 which was 50 x 5k runs in 50 days to raise awareness of mental health and healthy living through exercise...amazing!"
RW: Finally, you mentioned an after-school club that your group will be launching in Llantwit Major from February, can you expand a little on that and tell us more?
SJ: "We have been talking to 5 local schools recently with the intention of undertaking after school running sessions once a month. We started this week at a local school in Llantwit Major - 10 pupils attended which we hope to expand on moving forwards.
The intention is to have more Run Leaders qualified so we can enter into more schools. We will soon be starting at a second school and have also been approached by the local Girl Guides to help with one of their badges. We are also encouraging the schools and clubs we meet along the way to get active and giving them a goal along the way of getting fit, with the goal of entering our local Llantwit Major 10k event in August
We feel we are more than a running group, we're trying to create a legacy for a healthier community"