Trail running appears to be an increasingly popular method of running throughout Wales, and here at Run Wales we've seen many runners hit the trails as well as running on the roads or grass in recent months. This boom in trail running has resulted in the creation of trail running specific groups , like Trailblazers NPT who were formed in September thanks to collaborative work between local running club Run 4 All Neath and Run Wales Activator for South West Wales, Sharon Leech.
Trailblazers NPT were formed back in September by Run Leaders Samantha Perrott and Kevin Raymond, and have now reached the stage where they have a regular number between 20 and 30 members turning up to run together on a weekly basis. Samantha commented;  "Our club, Run 4 All, have a big ongoing project surrounding mental health and wellbeing seminars and a good working relationship with MIND NPT. Wellbeing is a key part of that, so the vast area of beautiful trails we have in Neath Port Talbot fitted in perfectly for us to start a trail running specific group"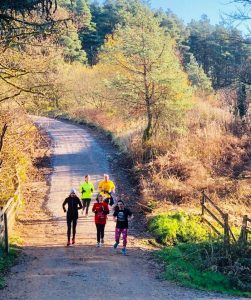 The group meet every Sunday morning at 10 a.m, where they socialise and enjoy runs ranging between 3 and 5 miles. "Nobody gets left behind on our runs", says Samantha. "We aim for a minimum of 3 Qualified Run Leaders to be present each week, and always start by introducing ourselves to any new faces. We make sure everybody's made aware what type of run we'll be doing, and the basics of trail etiquette are introduced in a fun group warm up.  Every turn along the route, we have a group check to ensure all our runners are ok. Each week can vary hugely in ability, so we are always prepared to re-think and re-route along the way. We always finish with a cuppa and a chat and everyone leaves smiling."
When asked about the unique nature of trail running, and why people should give it a try, Samantha commented; "Don't think about it! Grab a friend and get out to embrace the trails.  Join in with a group like Trailblazers that will safely direct you through unknown paths and woods.  Forget about your times, the trails differ to the roads in terms of efforts and pace.  Never feel you are slowing anyone down, and remember to look up and around you at all times so that you're able to take in the beautiful surroundings!"
As a new group every week is giving us such a buzz to continue.  We may see a very nervous runner doubting the ability to run on the trails and by the end of the run they're literally exploding from the high they are on.  That is why we love offering these opportunities"