Rhyl Runners
April's Group Of The Month are the Rhyl Runners, who meet up on Thursday's at the Rhyl Events Arena between 6:45 and 7:45p.m. The group were nominated for the award by Eva Brewer, Run Wales Activator for North East Wales.
The Rhyl Runners group were established just over a year ago and are an outgoing group of runners with mixed levels of abilities. Every Thursday evening the group meet up for a run around the roads of Rhyl, and always maintain one emphasis; everyone starts together, and everyone finishes together no matter the pace or distance of the run.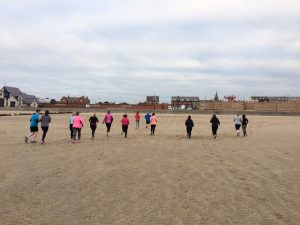 The Rhyl Runners have developed into a fun and friendly social group with a beginners and intermediate section that accommodates to the needs of runners with varying levels of ability. In addition to meeting up on Thursday evenings, they often support each other on different days of the week by venturing out to the local hills and river banks of North Wales for social runs together.
Last Sunday (25th March) the group entered their first official race as a club at the Denbighshire 5k and 10k. Standout performances from the race included Mike Pearson, who ran the 10k in 53:20 and Jennifer Johnston who ran 58:39 for 10k; outstanding achievements by both.
In addition, the Rhyl Runners recently used Community Chest funding to facilitate lirf training (leader in running and fitness) for another Run Leader, and will be pulling together to organise a charity curry night to raise money in order to buy a defibrillator for the forthcoming Bodelwyddan parkrun.
Congratulations to the group for their continued success! If you're interested in joining a social running group in your local area, click here: