June's Run Wales Group of the Month are new social running group Rock up and Run who are ba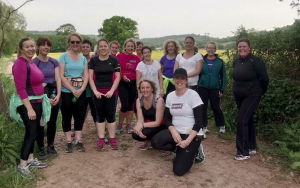 sed in Monmouth. The Rock up and Run group meet every Wednesday at the Shire Hall, Monmouth, and were originally set up to provide opportunities for social runners looking to exercise in a group setting without a competitive nature.
The group already has over 100 members and followers, with an open invitation extended to anyone wishing to get involved in running from the Monmouth area. The group welcome runners of all ages and abilities, is completely free of charge and there is no commitment involved with the group – so if you can only turn up and run once a month with them, that's absolutely fine!
The Rock up and Run group currently contains four LiRF (Leader in Running Fitness) trained run leaders, who take groups of different abilities out running each week. Lisa Bailey, Kirsty Jones, Gail Richards and Sorella Keeling all contributed towards the formation of the Rock up and Run group and can look after runners of all capabilities from run and walk sessions to longer distances and faster paces.
Run Wales Activator Hannah Phillips, who nominated the group for Group of the Month commented "Rock up and Run is a fantastic social running opportunity, and the girls who came forward to lead the group have been absolutely amazing. The group does exactly what it says – provides a relaxed environment for social runners, and it's an informal and extremely supportive environment for runners of all abilities"
Run Wales wishes to congratulate the group on their excellent work and we look forward to seeing the growth of Rock up and Run over the coming months.