Run with us Abergavenny are a fun and welcoming social running group based in Abergavenny with over 300 members. They meet on Wednesday evenings for a variety of runs and sessions including hills, sprint training and outdoor circuit sessions that are led by a number of qualified lirf (leaders in running and fitness) run leaders. The group also offer beginn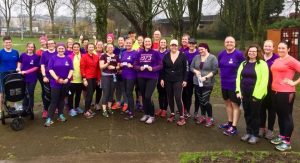 er Couch to 5k programmes throughout the year, which offer an ideal way for new runners to get involved and start running.
On Saturday 10th March, many Run with us Abergavenny members participated in their Couch to 5k graduation run as they completed the Cwmbran Parkrun. Run Wales activator for South Wales Hannah Phillips commented on the group's achievements stating "A big congratulations and well done to the group for completing the Cwmbran Parkrun, is there a better way to spend a Saturday morning?! I think not!". The group's achievements certainly deserve huge credit, as do the run leaders that have helped the team along the way to their Couch to 5k graduation. Run with us Abergavenny run leader Carys Thomas was delighted with the achievement, commenting "This is only the beginning! Can't wait to see you all on Wednesday", whilst run leader Sharon Phillips said "Brilliant, brilliant, brilliant, you're all amazing! For some, this is the first Parkrun you've completed, and your first P.B, so well done! For those who couldn't make it, we will do it again next week. There's no stopping us now!"
Run Wales have now trained over 350 qualified lirf (leaders in running and fitness) run leaders, and this highlights the great work that all our run leaders are doing across social running groups throughout Wales.
Are you interested in becoming a run leader? Read more here https://irun.wales/support/become-a-leader/