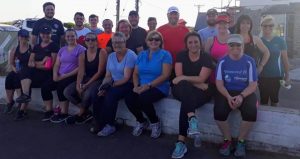 The Run Wales Group of the Month for September are We Can Run Burry Port, a social running group based in Burry Port who were set up in July by Gillian Handscomb and Nigel Thomas, aided by Run Wales Activator for South West Wales, Sharon Leech. After witnessing the success of the We Can Run Llanelli social running group just down the road, Gillian and Nigel discussed the idea of setting up a similar group in the Burry Port.
"We had the feeling that there wasn't any kind of social running group in the Burry Port area, and that so many people could potentially benefit from setting one up", said Nigel. The group officially started on the 2nd of July at the Burry Port harbour and saw a fantastic turn out for their first ever run. "We were over at the harbour waiting to see if anybody would turn up, and to our surprise over 25 people attended, with a great mixture of runners, walkers and those who wanted to do the Couch to 5k programme."
Since that start date, the group has continued to evolve and grow, setting up a Facebook group that now has over 80 members – with at least 20 turning up twice a week to the group's sessions. Nigel says; "We aim to cater for all, and want to make everyone welcome, with the emphasis on having some fun whilst also gaining fitness, all round better health and well-being."
Many of the group's members recently completed the Llanelli Coast parkrun together, achieving the 9-week Couch to 5k goal in the process. The most pleasing aspect for Nigel was seeing the smiles on everyone's faces as they crossed the line – which, in his opinion, said more than words ever could.
With winter fast approaching, the group hopes to continue to grow and see its members support each other every week. They are also developing ideas for social events outside of their weekly sessions where group members can socialise and hear more about each other's stories.
We Can Run Burry Port currently meet on Mondays and Thursdays at 6:30p.m at the Yacht Club in Burry Port harbour. You can learn more about the group or get in contact with Group Leader Gillian by clicking here.
Here at Run Wales we celebrate people and groups who run, jog and walk their way to a more active lifestyle. We love hearing stories from inspirational groups like We Can Run Burry Port – if you'd like to get in touch and tell us your running story please contact our Run Wales Media Officer, Adam Bitchell on adam.bitchell@welshathletics.org