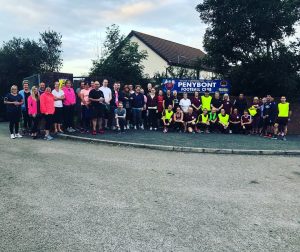 November's Run Wales Group of The Month are Just Run Penybont, who meet on Tuesdays and Thursdays at 7.30pm at Penybont Football Club, Bryntirion.
The group was set up in September by Emma Marshall and Stephne Puddy in order to offer new runners the opportunity to start their running journeys in an environment that required less commitment than that often found within more established running clubs.
Emma says "we wanted to start a social group that allowed people to begin running or improve their running at no cost and with no pressure. We wanted to offer a friendly group that would encourage and motivate people to run a couple of times a week with no pressure to run faster or further than they felt comfortable with"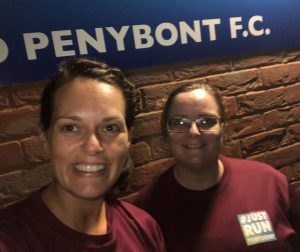 Just Run Penybont have a beginner's group, a 3k group and a 5k group to cater for all abilities, with run leaders that encourage and support their members to reach their own goals. Emma added "When we started in September many of our members were starting from scratch, they had never run before; now they're running 5k's, doing parkrun on a Saturday and planning races to enter in 2019."
Emma and Stephne became run leaders to help and encourage people who wanted to start running, or improve their running, and Just Run Penybont have given them the opportunity to do this on a larger scale.
"Seeing the huge improvement made week after week, makes us extremely proud of our group and our run leaders. Lovely friendships have been formed and the support they give each other is amazing. To us running isn't about pushing for faster times or encouraging our members to run competitively, it's about offering a relaxed, friendly place where you won't be judged if you walk or if your pace is slower.
"You can talk to your friends, take selfies, vent about your bad day, escape from the kids for an hour or just clear your head. We want people to feel comfortable and happy to run at their own pace." 
Nominated by Run Wales Activator Sharon Leech, the group continues to grow, with members inspiring each other and group leaders doing a fantastic job of motivating and encouraging their groups.
 Sharon commented; "Just Run Penybont are amazingly motivational and communicate really well with their members, continuously posting updates and reminders on social media, and from the word go in September they've had high numbers. They vary the routes that they run, and have also run in Porthcawl, to boost people's confidence and familiarity with the parkrun course"