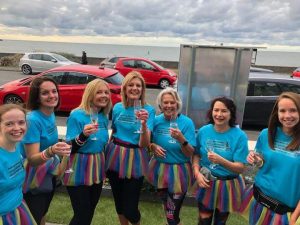 October's Run Wales Group of the Month is the Porth Eirias Running Group, who meet every Monday and Wednesday at 6:30 pm on the Promenade in Colwyn Bay.
The group was set up just over a year ago and has benefitted a number of social runners since, with Group Leader Paula Ford the driving force behind their development. The group started out by meeting once a week, on a Monday evening at Colwyn Bay's scenic promenade, but with the hard work and dedication of Paula, has now progressed to meeting twice a week.
Run Wales Activator for North Wales, Eva Brewer, commented "Porth Eirias running group has been going for just over a year, there are now 2 Run Leaders in place with a third about to do her Leadership in Running Fitness qualification. The group have been very supportive of new runners and a new cohort of beginners has been welcomed in recent months. They recently completed their first group run raising money for Network She at their Prosecco 5km run.
Paula has been a driving force behind the group going from 1 night to 2 nights a week and many of the ladies also benefit from attending their local parkrun at Conwy."
Group member Gemma recently trained for her first ever half marathon, which she successfully completed at the Cardiff Half Marathon two weeks ago. After her run in Cardiff, Gemma told her fantastic #WhyIRun story, which you can view by clicking here.
With winter fast approaching, the group hopes to continue to grow and see its members support each other every week.
Here at Run Wales we celebrate people and groups who run, jog and walk their way to a more active lifestyle. We love hearing stories from inspirational groups like the Porth Eirias Running Group – if you'd like to get in touch and tell us your running story please contact our Run Wales Media Officer, Adam Bitchell on adam.bitchell@welshathletics.org