So, you want to run a marathon?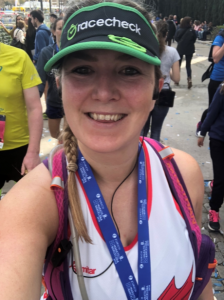 Since running my fourth marathon in Newport on Sunday, I have been through an absolute whirlwind of emotion; the questions and compliments from friends and colleagues have hardly stopped, and I have quite rightly felt very proud of my shiny new PB of 4.57.
However, the main thing that has surprised me is the number of people who have said things along the lines of 'I could never do that', 'how do you do it', and 'there's no way I could ever run a marathon'.
Well, let me tell you- you can. You absolutely can. I'm writing this blog post for Run Wales to share a little insight in to the incredible experience of completing a marathon, in the hope that it might inspire someone out there to think- 'actually, I can!'.
My journey to marathon running started on the 3rd June 2012; I know the exact date because I keep a screenshot on my phone of that first run as recorded on Run Keeper. I managed a grand total of 3.5km in 28 minutes and 40 seconds. I remember looking along the path at the side of Roath Park and saying- I'll run to that bench- it was no more than 400 metres away but I felt like I could hardly breathe by the time I got there. I kept repeating this until I made it around the lake. It felt like it took forever, I worried that everyone was looking at me, my face was bright red and sweaty- but I was so proud that I had done it. I remember a few weeks later starting my run and actually making it all the way around that 3.5km loop without stopping- and in some ways I haven't stopped since.
I entered 10ks and half marathons and was quite happy with this for a few years; I always said I wouldn't be able to run a marathon- it was too far, too hard, I didn't have time….. excuses that will be familiar to anyone who has ever tried to avoid exercise!
In October 2016, I went to Berlin to watch a couple of friends run the marathon- and from that moment on I was hooked- I watched the faces of the people out on the course, saw the incredible achievements and the look of pride on their faces- I wanted to be a part of this exclusive club.
A few weeks later I was signed up to Brighton marathon in April 2017 followed by Edinburgh marathon in May- I devised a training plan and spent the winter following it as much as I could. It was tough- we live in Wales, there was a lot of cold, ice and rain. It was dark. I was tired. Running hurts. It's hard- however- nothing can ever match the feeling of crossing that finish line- and I got to do that twice in 6 weeks during the spring of 2017.
I was even more hooked on that feeling. I entered more races. I joined a social running club- the first session I was terrified, I thought I would slow everyone down and that I would feel embarrassed running with others. Any worries were quickly allayed when I arrived and was welcomed warmly into the fold.
Running has opened up a whole new world for me- firstly, I've gained so many new friends. I cannot recommend a social running group highly enough, whatever distance you run, however quickly. You will find friendly, supportive, likeminded people who want to help you improve and enjoy your running even more. I fully credit (blame?) them for my continuing love affair with marathon running!
I entered a further 2 marathons during early 2018- Barcelona and Newport. I enjoyed the training for these even more. In a life where I felt like I was constantly juggling work, a social life, household chores and a small crazy french bulldog, running is my time. I go out for hours at a time, sometimes with friends, sometimes just with my headphones, and I get some much needed headspace. Running gives me time to work through problems in my head, or simply just to zone out, which isn't something I'm able to do very often.
I also love the challenge that comes with running- being someone that has always pushed themselves to achieve, seeing the results of my hard work and knowing that it was paying off was addictive. Running marathons helps you realise how strong you are- there will be times that you want to stop- you don't- you push through the pain and the tiredness to get what you want- a lesson that is also very applicable to life more generally!
Now that I knew I could finish a marathon, I wanted to see what else was possible- what is this body capable of? During early 2018, I trained harder, but never so much that I didn't enjoy it. I looked at my nutrition, and even (shock!) cut down on alcohol. I took 50 minutes off my marathon PB in Barcelona, and a further 6 minutes off in Newport. The hard work and sacrifice were all worth it the second I crossed that finish line and knew I had achieved what I set out to do.
So- running is great- it makes you healthier, gives you more resilience, allows you time and space to manage your thoughts, and helps you connect with those around you. Still not convinced you can do it? Let me finish by saying that I am not a natural athlete. I eat too many takeaways and drink too much prosecco. I don't spend hours every week training, I don't have a coach and I cobble together my training plans from things I've read on the internet and with the help of the fantastic run leaders at my club. I've gone from getting out of breath running 400m, to smashing out 26.2 miles and still being able to walk the next day. If I can do it- anyone can!
To hear more from Sophie, be sure to follow her personal blog here or follow her on twitter @Sophie_runs