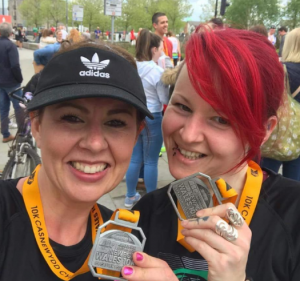 I started running May bank holiday Monday 2018 when I finally plucked up the courage to join a couch to 5k programme with a local running group. I was terrified!!!!
I had piled on 4 stone in as many years after having babies and going through the loss of my mum and my dad within 10 months of each other (both of which I lost within the first year of becoming a mum myself). I had known for a while my unhealthy lifestyle was spiralling but with a high pressured full-time job working long hours, and 2 young children, I couldn't find a way to fit exercise in. Then the biggest trigger for me to make change was the CRUK obesity campaign which launched Jan 2018 highlighting obesity as the second biggest avoidable cause to cancer after smoking. I'd lost both my parents to smoking related illnesses and just could not bear the thought of letting history repeat in some way. So I promised myself I would make change to always try my best. That's what drove me to take the first step to a healthier lifestyle.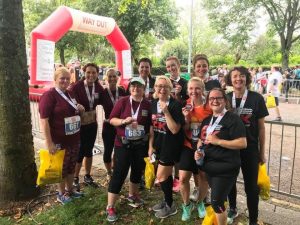 First race was Swansea race for life 5k. I did this one on my own. I was so nervous but felt so proud of myself for getting it done (I'm not someone who likes to do things on my own). My favourite race was the 5k Santa dash from a fun element – spending the day with my amazing new running friends!! The Cardiff 10k felt like my first big achievement though and I felt like I was graduating from the beginners' club ha-ha!!! Again it was so amazing to do it with my new family. Although, to date now, I have to say running a half marathon is what I'm most proud of. I didn't think I would EVER be able to do that! I don't think anyone who knows me did either.
I've seen so many improvements since I've started running – I'm still on my weight loss journey but I'm 3 stone down. I'm so much more confident in so many ways – not only physically. I feel like I'm a better role model for my kids – I love it when my 2 year old says 'mummy go running?' and when my 6 year old proudly puts my medals on. Mentally I'm pretty sure my husband would say I'm much less snappy!! It feels so good to leave work feeling uptight and stressed but go home with a clear head after a run with my running family and a good old rant/ chat about nothing. I used to take my stress and work pressure but now I run it off. Although one of the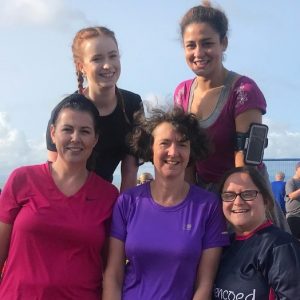 biggest benefits has without a doubt been the friendships I have made. I would not have got this far on my running journey without the support and friendship of my running friends. We have such fun and I feel so much genuine support. They are amazing. Joining a running club has genuinely changed my life!
Thanks to Tina for sharing her story.