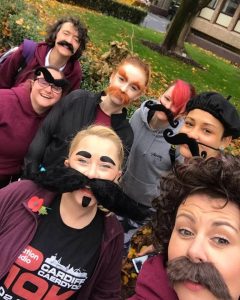 Just over a year ago my employer, Tai Calon Housing Association, arranged for its staff to have the opportunity to attend a health check delivered by the local leisure trust. I took this up and the results made chilling reading – I was over-weight, inactive and my diet was poor.  I also knew my mental health was at risk, I love my job, but long hours and a significant commute were beginning to take their toll. Something had to change. 
I joined a slimming class and it was here that the Couch to 5k programme at a local running group was mentioned. I'd never run, never thought I could run, in fact when I thought about it, apart from the weekend dog walk, I hadn't exercised in years. Encouraged that a friend at the class was interested I agreed to go. The day came and it was a sizzling hot bank holiday Monday, too hot for my friend, so I took a deep breath and decided to go on my own.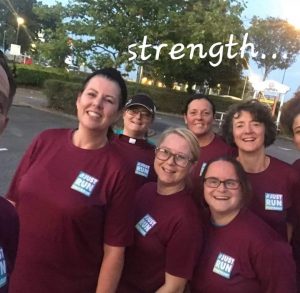 What a great decision that turned out to be. The leaders of the Couch to 5k programme were so supportive and encouraging and the gradual transition from walking to running was ideal. But the best thing of all was the group of newcomers who joined at the same time. A WhatsApp group was set up and hey presto a group of strangers came together as friends, as Sole Mates, with a common goal. Over the year we celebrated our shared achievements – the first 5k, the first 10k and being the featured picture on the Cardiff MoRunning page – we suit moustaches! All of these achievements supported and encouraged by the fabulous run le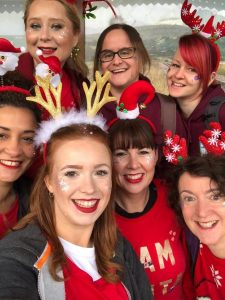 aders at Just Run PenyBont.
So where am I one year on, well, in addition to having a group of fabulous running friends and a first half marathon under my belt, I went back for another health check with the local leisure trust. The improvements were significant and I proudly announced to my friends and family the changes they could already see. What's more I find that a passion for running is infectious and one that you will want to share, so with guidance from Run Wales and support from other colleagues we plan to establish a work-based Couch to 5k programme in June. What a difference a year makes – thank you!   
Thanks to Marcia for sharing her story.