Are you passionate about Social running?
Are you a qualified Run Leader (LiRF)?
Do you want to share your knowledge and experience of Run Leading?
If the answer to all of the above is yes, we are looking for you.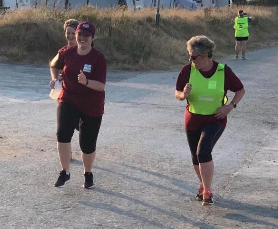 Run Wales is launching a Leader Champion programme to support, encourage and mentor new and novice Run leaders who are working within our registered Run groups.
As a Leader Champion, you will promote social running opportunities within your local area, sharing your knowledge and experience. As a point of contact for questions and queries, you will inspire, upskill and motivate leaders and play a key role at the absolute heart of our leader network.
As an official Leader Champion, you will have a platform to promote social running and run leading opportunities. We will provide full training before you start the volunteer role and you will be supported throughout by a staff and peer network, all dedicated to increasing the quality of leader provision across the social running community in Wales. There are also a number of other benefits to undertaking this role and full details can be found here.
INTERESTED?
Please check you are available for the training day in your area then email the below details to irun@runwales.org.uk by 21st February 2020 at the latest -
NAME
PHONE NUMBER
EMAIL
ATHLETICS NUMBER (URN)
Approx 100 words about why you would like to be a Leader Champion
If you have any questions about this opportunity please contact us on irun.wales.org.uk