Newborough Forest parkrun confirmed as World Cup Winners – Champions of the world!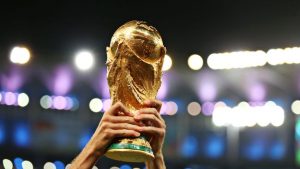 A few weeks ago Chester parkrun asked the running community to nominate parkrun's that they had done or wanted to do as a tourist. A knockout tournament was then held via Instagram and Facebook to find the parkrun Champion of the World!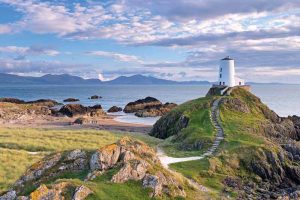 Newborough Forest parkrun which is a stunning part of Anglesey progressed to the final against Conwy parkrun after winning against some tough competition from the likes of Eden Project who Newborough beat in the semi-final, Yeppoon parkrun all the way in Australia who Newborough beat in the quarter final as well as Germany based Georgengarten parkrun in Hannover and Brockenhurst parkrun from New Forest who Newborough also won against.
After a total of nearly 4,500 votes Newborough Forest won with 54% share of the vote on Facebook and 78%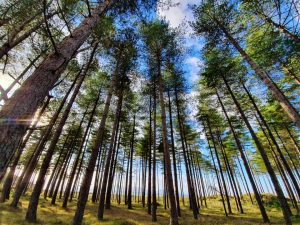 on Instagram to beat Conwy parkrun who pushed them all the way in the final. Congratulations to Conwy who have a stunning course in a beautiful location as well as their team of fantastic volunteers also known as high vis heroes. Unfortunately there could only be one winner and the team at Conwy were gracious in defeat as Newborough took the title.
Newborough Forest parkrun said "Special thanks to the team at Chester parkrun for organising this great event which brought parkruns together and votes from all over the world. Special thanks to all who gave their time to nominate, it's not every day you get to be crowned World Champions so we look forward to our first event back where we can celebrate together."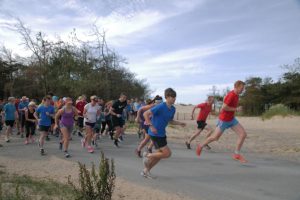 Newborough Forest parkrun is a FREE weekly 5km event for runners of all standards, which takes place every Saturday at 9:00am in Newborough Forest, Llanddwyn, Anglesey, LL61 6SG. It is not a race against other runners, but a 5k timed run and it can really be whatever you want it to be, whether that's for fun or as part of a training plan. It offers an opportunity for all the local community, male or female, young or old, to come together on a regular basis to enjoy this beautiful park and get physically active into the bargain. We want to encourage people to jog or run together irrespective of their ability – this event is truly open to all and best of all it really is FREE! Free parking, Free entry and Free use of facilities.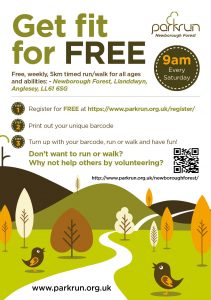 Taking part is easy – just register before your first ever parkrun. The great thing is that you only ever need to do this once! Then just set your alarm for Saturday morning and get yourself there!
Newborough Forest parkrun said "We look forward to the return of parkrun and we hope we can attract some more amazing volunteers to join the team." If you are interested in becoming part of this amazing team please contact them on newboroughforesthelpers@parkrun.com with your name and contact details.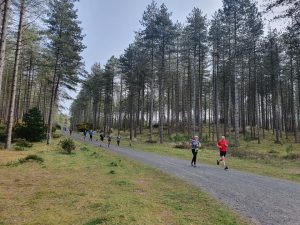 Newborough Forest parkrun is a significant event for the local community as well as the wider communities near & far, as a voluntary group they will be fundraising hard over the coming months to purchase some essential equipment and resources such as First Aid bags and ice packs, PA System, First Aid training, shelter as well as various other items. They are asked "if you or anyone you may know of would be interested in giving a donation we would be very grateful. To donate please visit the more info section on the parkrun website.
A massive well done to the Newborough Forest parkrun team on their victory! We cannot wait to visit once lockdown is lifted!