Cardiff Junior parkrun
Number of events – 163
Average number of runners per week – 149
Total number of runners – 2,999
Number of personal bests – 5,360
Biggest attendance – 249
Total distance run – 48,688km
This week's parkrun of the week is the Cardiff Junior parkrun which takes place at 9:30a.m every Sunday morning in Llandaff Fields, Cardiff. The junior parkrun is an event for children aged 4-14 years of age and consists of a 2k running route.
Last weekend, the Cardiff Junior parkrun saw junior runners amass in their dozens on a beautifully sunny morning in Llandaff Fields, with over 200 children taking on the 2k course. In addition, a fortnight ago the event hosted school children from Ysgol Glan Ceubal, with pupils participating in the junior parkrun as part of their healthy living projects.
The junior parkrun offers many different cool and stylish wristbands to junior parkrunners for achieving milestone numbers of junior parkruns. After completing 11 junior parkruns, children are awarded a blue half marathon wristband, and if they reach the milestone of 21 junior parkruns, then they are awarded with a green marathon wristband. There's even an orange wristband available for children who complete 50 junior parkruns!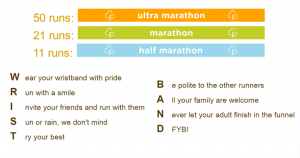 Along with getting children outside and active on a Sunday morning, the junior parkrun offers parents, siblings and family members a chance to come together and encourage children around the 2k route as well as offering an opportunity to socialise and chat about the senior parkrun events that they have often completed the day before!
The Cardiff Junior parkrun course is a single lap, out and back style 2km run set up in Llandaff Fields and is set on entirely tarmac paths within the park. The Cardiff Junior parkrun relies on its dedicated and hard-working volunteers who give up their Sunday mornings to help set up and organise the event for the benefit of the junior parkrunners. Every week after the junior parkrun, volunteers, parkrunners and spectators often gather at Café Castan which is located inside Llandaff Fields for a post-run coffee and chat.
To read more about the Cardiff Junior parkrun, click here
To get involved in a parkrun near you, click here