Bryn Bach parkrun
Number of events - 292
Average number of runners per week - 76
Total number of runners - 2,205
Number of personal bests - 4,655
Biggest attendance - 271
Total distance run - 111,460 km
This week's parkrun of the week is the Bryn Bach parkrun, which takes place at Parc Bryn Bach, Tredegar at 9a.m every Saturday morning. Last weekend, the Bryn Bach parkrun celebrated the build-up to the NHS' 70th birthday anniversary in style with some celebrity appearances from a few of the biggest names in Welsh Athletics along with BBC weather and news reporter, and keen runner Sue Charles!
Many of Parc Bryn Bach Running Club's runners turned up for last Saturday's parkrun in NHS themed fancy dress outfits, including event director Lee Aherne. The regular parkrunners also had an opportunity to run alongside Commonwealth Games athletes Tom Marshall (Gold Coast, 2018) and Adam Bitchell (Glasgow, 2014) wo completed the 5k route together – enjoying the sunshine and scenery! In addition, they were also given the opportunity to watch Commonwealth Games bronze medallist race walker Bethan Davies perform a 15km training walk around Parc Bryn Bach, as well as hold and take pictures with her bronze medal from the Gold Coast!
On hand to welcome the athletes to the event on Saturday morning was local MP for Blaenau Gwent, Nick Smith who is also a keen runner himself and is heavily involved with Parc Bryn Bach. After completing their 5k, parkrunners were also given the chance to meet and hear from BBC's weather and news reporter Sue Charles, who spoke about the importance of Blaenau Gwent's history with the NHS along with the many benefits associated with social running.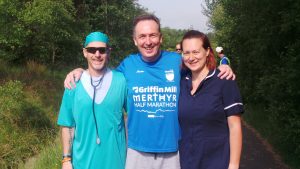 Speaking after the event, Adam Bitchell said it was absolutely brilliant to see the turnout at the park (over the double the usual number of runners) and how parkrun events are going from strength to strength. "I've never been up here before but it's a really nice course. I'm involved a lot with Run Wales and there's been a real boost in social running lately – a prime example of this is the Couch to 5k programmes like we're seeing here today. We all need to realise that running can have a huge impact on our mental and physical health."
Sue Charles also commented on her excitement at being invited along to the event, stating "For a weather anorak like me it's fascinating because this is where the weather station is based and they often get the coldest temperatures in Wales here. I'm just thrilled to be invited here today, to the honorary birthplace of the NHS and help encourage people to get active"
To read more about the Bryn Bach parkrun, click here
To get involved in a parkrun near you, click here