Newborough Forest parkrun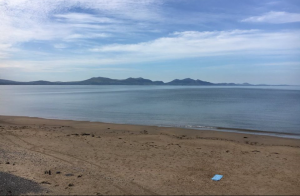 This week's parkrun of the week is a brand new parkrun – the Newborough Forest parkrun, which started on Saturday, 23rd June at Newborough Forest on Anglesey. It's the first parkrun event ever to be launched on Anglesey and is run on a mixture of trail paths and grass on the incredibly scenic Anglesey coastline.
On its debut event a fortnight ago, the Newborough Forest parkrun saw 85 runners take on the 5k course for the first time in glorious weather. The course consists of one 5k lap on a mixture of grass, trail and fire roads amongst the forestry of the park and alongside the beach front that overlooks the stunning Llanddwyn Island. Additionally, every Saturday morning, volunteers, spectators and parkrunners will meet in the Marram Grass Café for a post-run coffee and chat.
For those of you wondering why you should go and try the Newborough Forest parkrun, here are a couple of reasons that might persuade you:
Newborough Forest is one of the most important Red Squirrel conservation sites in the UK
Newborough Forest is one of the largest publicly accessible forests in Wales
Newborough Forest's views through to the Cefni Estuary and Llanddwyn Island are unforgettable
The Newborough Forest parkrun is ideally located for regular members of local parkruns in the area such as Conwy and Penrhyn.
For more information on the Newborough Forest parkrun, click here
To get involved in a parkrun near you, click here