Bodelwyddan Castle parkrun 
This week's parkrun of the week is the Bodelwyddan Castle parkrun, which makes it's debut on Saturday morning (18th August). The parkrun takes place at Bodelwyddan Castle, Denbighshire and is run entirely on trail paths.
The route starts in front of Bodelwyddan Castle - and runners cross the field into the woods then follow the trail around the boundary and back to the top of the field and down to start the second lap. On the second lap runners will continue along the short path back to the front of the castle.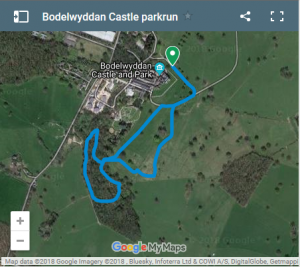 Bodelwyddan Castle has a café, parking area, toilets and a small children's play area on site.
Every week, parkrunners, volunteers, and spectators will meet for a post-run coffee in Caffi Celf!
For more information on how to get involved in the Bodelwyddan Castle parkrun, click here.