This week we have a double edition of parkrun of the week – our first parkrun of the week is the Wepre parkrun which takes place in Wepre Park, Connah's Quay every Saturday morning. Last weekend was a special occasion for the Wepre parkrun as it celebrated it's 100th event, with participants wearing orange in support of Team Jenson – raising awareness of Muscular Dystrophy. The turn-out was brilliant, with 184 finishers, one of the highest totals ever for the Wepre parkrun. This was partly because it was the first dry Saturday morning for many weeks, but largely because so many parkrunners turned out dressed in orange to support Team Jenson and "Go Orange for Muscular Dystrophy".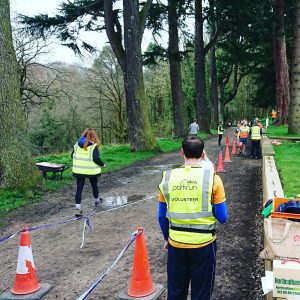 Rob Mackey, Event Director for Wepre parkrun said "Wepre parkrun is always fun, but today was special. The whole atmosphere was buzzing! Apart from the 184 runners, joggers and walkers we had 25 volunteers marshalling on the course and working on the finish to record times and positions. I was tail-walker along with my daughter and our dogs. It was fantastic to see the support all round the course from the masses of spectators enjoying the event. But on a serious note, I hope that we have helped raise awareness of this dreadful condition and help Team Jenson in their fundraising to help research into this condition".
Team Jenson is a family fund that has been set up as part of the Muscular Dystrophy UK Charity in support of five-year-old Jenson Edwards from Buckley, North Wales who was diagnosed with Duchenne Muscular Dystrophy in February 2016. Jenson's parents, Hannah and Craig, have set up a fundraising page to raise awareness of the condition and support research into the condition, as well as to support Jenson's future welfare needs.
To read more about the Wepre parkrun, click here
For more information on Team Jenson, click here