CELEBRATE PRIDE CYMRU 2021
Co coincide with Pride Cymru we're asking runners and clubs to get involved for the week of 23rd August to 30th August.
Go for a Pride themed run with mates, or go to one of the themed sessions that our amazing Welsh groups and clubs are putting on.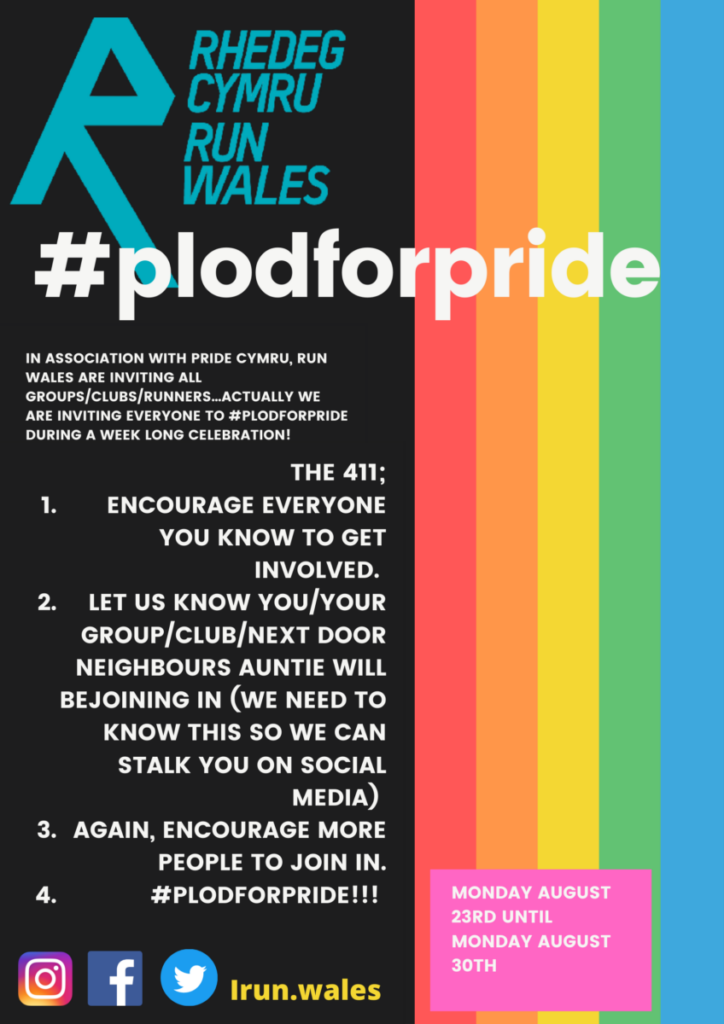 As well as a nice long weekend, the end of August also means one thing – Pride Cymru!!
2019 saw the first official Pride Cymru Pride Run, hosted by CDF Runners, and whilst we'll have to wait for next year to enjoy a full large scale Pride run again, we do want to celebrate and we'd love all of you lovely runners and clubs, to get involved.
For Pride Cymru week – 23rd August to 30th August:
Get together with mates & dress up for your own Pride run
How about make some or all of your club runs Pride themed
Put on a special Pride club run
Tell us through social media & blog posts why LGBT+ inclusion matters to you and your club, and of course to your LGBT+ members!
Use the hashtag #plodforpride tag @pridecymru and @irunwales and we'll share your pics!
We can't wait to see what you come up with!
We look forward to seeing lots of colourful pics, but also we wonder what inventive ways you might come up with to represent LGBT+ diversity at your sessions during the week?