Resilient Runners is a series of blogs about the brilliant ideas that our running community have been coming up with to keep each other going in these unprecedented times . . .
Empower Health & Wellbeing Coaching

Joanne Juliff is the Run Leader at Empower Health & Wellbeing Coaching. They have a 6 week Zero to Parkrun beginner programme, linking with Swansea Parkrun at the end, as well as groups for 5K runners. The onus is on wellbeing and over the last few weeks they have all seen how important it is to have that one run or walk a day.
Knowing that normal group sessions would no longer be possible, Joanne set up a mile a day challenge. She explains how it works…"at Empower Runners we're busy trying to get over the disappointment of cancelled marathons, half marathons, 10k and mostly Parkrun! I've set a challenge to try and keep people's spirits up and continue to encourage their love of running – albeit without the purple army support they've come to rely on – and so far I've got over 40 signed up.
It's simply – 1 mile a day challenge – with the tagline – "run it, record it, take a pic, post it"
The idea being that it's totally inclusive – even our newest runners and our runners who have never run alone before, can do this – at the end of each day, I total up the miles run and post a daily total. Further runs are permitted, but you only need to do the mile to take part.
Hopefully it will inspire them to stay enthused throughout this hellish period and continue to love running but also grow in confidence when they realise they CAN run alone.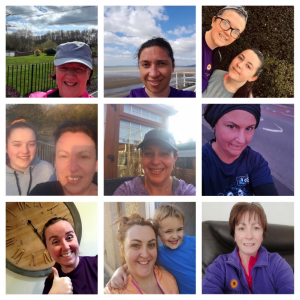 Since Joanne first got in touch with Sharon Leech, the idea has spiralled. Her Empower Runners have shared their photos on Facebook and others have asked if they could take part. So they now have walkers and cyclists (as well as runners) posting their completed mile.
Some do alone, some with the family, all adhering to the social distancing rules.
As the idea started in Port Talbot, slowly they realised that they were covering much of the coastline of South Wales as word of the challenge spread. Now they've reached as far as Brighton and have Dover as their target.
Indeed, they've even had people from Ohio, Scotland, Rochdale, Ealing, Florida, Rhondda, Aberdare and Swansea taking part too.
It's been a huge motivational aid in keeping people in touch and providing the support people need to get that daily mile done. Well done all!
Fantastic effort Empower Runners!
Another Resilient Runners blog post will be coming your way Thursday.
#Innovate2Unite