We all know that runners are made of tough stuff, we lace up our trainers come rain or shine, we are up at 6am on a Sunday to do our long runs, and its this sort of mindset that really helps when difficult times arise! As a running community we have seen so many brilliant ideas to keep everyone motivated and connected.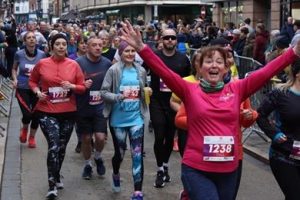 Please can we say a huge thank you and well done to all our amazing run leaders, you are all working so hard to promote positivity in your groups and communities, here are some the brilliant suggestions you have made to help keep everyone fit and active.
Llantwit major Milers arranged a Facebook live session with 'the endurance Physio' – what a great way for runners to get engaged and utilise this time to gain knowledge, Mike James has also posted homework out of the Facebook page.
Just Run Penybont have a virtual baton being passed around. Each day at the end of someone's run they nominate another person to take it the next day #passthebaton.
Heath Massive have set up a virtual running group via WhatsApp to keep everyone motivated.
Tri Hard Harriers are posting training sessions on social media for people to do individually.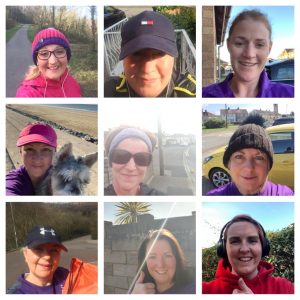 Empower runners have started a purple 1-mile challenge, and are travelling virtually around the UK coastline. They have opened the challenge up to invite others to join their community – logging a walk/run/cycle. They've already reached Brighton, next target Dover
Seriously mad runners have been sharing their runs and routes on Facebook.
Dolly Mixtures have created a Budweiser (not Corona)challenge, with lots of solo challenges to do over the next month and a # for runners to post there runs and get kudos.
Pontyclun road runners have been posting ideas and suggestions on their Facebook, anything from podcast to keep you company on your runs to simple intervals.
Roberttown Road runners of Ynysybwl are posting there runs under #robbiessolotraining and they are sharing live videos of exercises.
Sole sisters are posting selfies, doing online bootcamps and guided relaxation.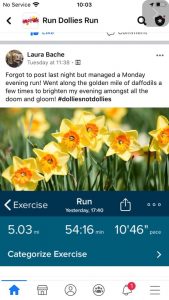 This is just a small amount of the brilliant ideas that our clubs are sharing. We know are runners are great a supporting each other if we need any help or advise please drop us a line at irun@runwales.org.uk.