Running can change lives, and those who've overcome challenges are often some of the best advocates and motivators to help others do the same. Rob Matthews has turned his life around through Diet control (Slimming word) and regular exercise in the form of running. As a Type II diabetic and asthmatic, he struggled with his weight, high blood pressure and stress, but over the course of the last 15months has reduced his weight by 2 ½ stone and having seen the benefits to his own health, is now a qualified run leader.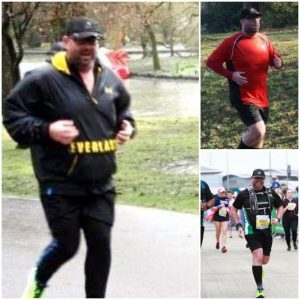 He started his parkrun journey in July 2018, walking more than he ran, but as his confidence quietly grew, he turned this around and began to run more and more. In January of this year, he joined Dragons Running club and with the support of the group, entered and completed the Cardiff Bay 10k. As well as losing weight, his growing confidence has helped improve his mental wellbeing, control his blood sugars – now nearly in the non-diabetic range – and reduced his blood pressure.
"My mental health is a lot, lot better – I'm still nuts – but a happier nuts!  I'm now enjoying passing on my enthusiasm for running by supporting my own group and loving seeing the confidence grow on their faces every session, which helps and continues to support my own journey."
Rob and fellow leader, Andrew 'Drew' Edwards now lead a 'Step into Action'  group based in Dare Valley park, Aberdare, which came about as part of the Run Wales partnership with Diabetes Cymru UK.