Welsh Athletics, the governing body for Athletics and running in Wales, through its Run Wales Social Running Programme has signed up to be a part of 'Our Squad' – an initiative by Sport Wales to celebrate, encourage and empower women in Wales to get active, and stay active.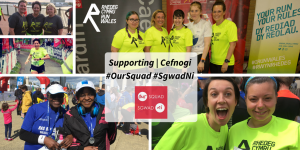 Welsh Athletics is the latest organisation to publicly voice its support for Sport Wales' campaign, pledging its commitment to helping increase the number of women and girls getting active at a time when research shows fewer females are taking part in sport or physical recreation compared to their male counterparts.
Our Squad - a campaign for every woman and girl in Wales, no matter fitness level, ability or activity of choice, will look to unite women and girls' programmes across the country and will be supported by a squad of ambassadors from around Wales.
As well as joining the squad, one of Run Wales' main objective is to work with women and girls to offer fun, safe and friendly environments through walk to run programmes that encourage and motivate women to become and stay active.
Sioned Jones, Run Wales Social Running Programme Manager said "It's fantastic to see and be a part of initiatives like  'Our Squad' and to work alongside Sport Wales to help achieve this common goal, and champion those women who are already encouraging their peers in the local community to get active. Run Wales already have fantastic women champions who lead their own groups, or are members of running groups, and of the 100 running groups we have registered with Run Wales approximately 30 of them are women only groups.
The Our Squad campaign will bring to life the unique stories of women from different walks of life, from all across Wales, who each have their own reason for getting physically active. Run Wales Run Champions will be some of those women contributing to this great initiative – so look out for their stories that will, hopefully, inspire others to get active.
Sarah Powell, Chief Executive of Sport Wales, said: "We're delighted to welcome Welsh Athletics to the squad! We wouldn't be able to reach and inspire as many women and girls across Wales without their support. There's a network of women and girls out there tackling each one of the barriers preventing more becoming active and it's through programmes like Run Wales that will unite these ladies and ensure they bring others with them along the way."
Women and girls looking to be a part of Our Squad or become an ambassador across Wales are invited to like Our Squad's Facebook page and follow on its Twitter, Snapchat and Instagram.
Twitter: @oursquadcymru          Facebook: www.facebook.com/oursquadcymru  
Instagram: @oursquadcymru                     Snapchat: oursquadcymru
If you run your own women or girls group, or want information on how to get involved and be a part of 'Our Squad' visit www.oursquad.cymru.
Or if you fancy joining a group, or wish to set up your own then why not get in touch with us today!
For more information on Our Squad, please email oursquad@sport.wales
For More information on Run Wales, please visit www.irun.wales or contact us on irun@runwales.org.uk.